It's not surprising that retailers feel overwhelmed by the complex GST landscape in an era where every transaction, every invoice, and every financial move is subject to government scrutiny. Keeping accurate records, classifying products as per their levied GST, and calculating tax submissions – all of these factors are critical to staying compliant and growing your retail business. This is why investing in a GST-compliant POS system that will integrate your every sale with the GST calculations is the right choice.
A standard and quality GST-compliant POS software solution will help meet regulatory requirements and contribute to error reduction, and enhance credibility for your dealings with suppliers and customers.
Read this blog to know why you should purchase a GST-compliant POS system to meet regulatory needs.
What is a GST-Compliant POS?
Several countries globally have decided to let go of the complications associated with indirect taxes by replacing them with a consumption-based tax on goods and services, which is commonly referred to as the GST. They have implemented GST as the foundation of their tax systems to simplify taxation, minimize tax evasion, and encourage a transparent tax system. GST necessitates businesses to embrace technologically advanced solutions for accurate taxation calculations, seamless reporting, and effective inventory management.
Today's consistently evolving business scenario demands compliance with goods and services tax (GST) regulations. A GST-compliant Point of Sale (POS) system is not only beneficial but necessary for businesses involved in selling goods and services, especially retail stores, supermarkets and online stores.
Keeping up with ever-changing tax regulations is not just a legal requirement, but also a vital strategic choice. To assist businesses in addressing this challenge, the GST-compliant Point of Sale (POS) system has become a necessary tool. Retail store owners need to calculate and collect GST accurately, file GST returns, and remit it to the government. It is a strategic move that can boost business operations, mitigate risks, and foster growth.
What Are the Benefits of a GST-Complaint POS?
A GST-Complaint POS offers the following benefits:
Minimizes the Possibility of Errors
We understand that GST reporting can be complex, but a GST-compliant POS system simplifies it. Detailed reports are automatically generated to accurately depict sales, taxes collected, and other financial data, formatted as per the tax authority's requirements. This significantly reduces the burden of manual filing and reduces the risks of errors.
Real-time Updates
Modern POS systems and their integration with inventory management software can streamline your stock movements and GST calculations. Real-time updates of product sales will ensure you keep accurate records, as well as prevent stock shortages or oversupply. All in all, this type of integration facilitates efficient inventory management.
Enhances Customer Experience
Ultimately a good retail store owner is the one who ensures their customers are happy. This is where a GST-compliant system can help. It enriches the customer experience by ensuring that taxes are applied in accordance with government regulations and in an accurate manner. This minimizes the time customers invest waiting in line at the stores. A positive customer experience is enhanced by accurate billing and transparent tax calculations, which further enhances customer loyalty and satisfaction.
Simplifies Auditing:
No one wants to be the focal point of the audit authorities. They may conduct audits to ensure compliance and a GST-compliant POS system can aid retailers in this regard. By generating a digital audit trail of all transactions, a GST-compliant POS system makes auditing easier, more accurate, and more efficient.
Makes the Business Adaptable to Changes
Technology and regulatory requirements continue to evolve. With a GST-compliant POS system, your business can adapt to future changes with minimal disruption. This future-proofing ensures the system can adjust to new requirements, preventing frequent replacements or upgrades in the future.
How Can Non-Compliance Impact Your Business?
If your POS system is not compliant with the GST standards, it can result in the following issues:
Penalty
The non-compliance with GST regulations may lead to fines, penalties, and legal actions imposed by regulatory authorities. These penalties can be substantial and directly impact your bottom line, potentially leading to unexpected and avoidable expenses.
Inaccurate Tax Calculations
The GST or other taxes on goods and services may not be calculated accurately by a non-compliant POS system. Inaccurate tax calculations can trigger audits by regulatory bodies, leading to dissatisfaction, potential disputes, and revenue loss. Inaccurate tax calculations can also result in dissatisfaction, potential disputes, and revenue loss.
Lack of Transparent Reporting
In order to comply with regulatory requirements, it is often necessary to maintain accurate records and generate reports. When audits or assessments are conducted by tax authorities, non-compliant POS systems may be unable to generate detailed and accurate reports.
Damage to Reputation
Incorrect taxation, overcharging, undercharging, or any other issues resulting from a non-compliant POS system can harm your business's reputation. Tax-related errors can erode customer trust and loyalty, and customers expect transparency and fairness in their transactions.
Increased Workload
There might be operational inefficiencies and the risk of errors in tax calculations if you use non-GST-compliant systems that do not offer real-time updates of tax rates. This will add a burden to the already occupied staff and distract them from focusing on the core objectives of the business.
Audit Vulnerability
In the absence of automation and compliance features, your employees may have to spend more time manually calculating taxes, generating reports, and correcting errors, diverting their focus from more productive activities. As a result, non-compliant systems lack the necessary features to create a digital audit trail. This can make your business more vulnerable to audits by regulatory authorities.
Missed Business Opportunity
Customers prefer businesses that operate transparently and professionally, so a non-compliant POS system might discourage potential customers from engaging with your business.
What Are the Things to Look for in a GST-Compliant POS System?
Now that you know the significance of investing in a GST-compliant POS system, it is important that you look for the following features when you plan to buy one:
Invoice Generation:
Retailers are required to issue a tax invoice in a prescribed format indicating details such as HSN classification of goods, says Deloitte's report on GST implications on the retail industry. A POS software must have invoicing features to include GSTINs (Goods and Services Tax Identification Numbers), tax rates, HSN codes, and more in the invoices. Invoice templates should be customizable and adhere to GST guidelines while also incorporating your business' brand.
GST Calculation and Reporting:
It should be able to set up and update GST rates easily, as tax rates might change over time. The POS system should accurately calculate GST based on the applicable tax rates for different products and services. To ensure proper categorization of goods and services, the system should also support HSN/SAC codes.
Real-time Reporting:
In order to stay current on your GST obligations, the system should provide real-time reporting of sales, taxes collected, and other relevant financial data.
Integration Capabilities:
GST-compliant POS systems that come with integrated accounting software.
Multilocation Support:
Make sure your POS system can handle GST compliance across different regions if your business has multiple locations.
Item and Inventory Management:
Make sure the system has an integrated inventory management feature that can help you keep track of stock levels, aiding in better tax management.
Tax Filing Support:
As per the regulatory requirements laid down by the GST Council of India, filling GSTR-1 and GSTR-3B in their required format is mandatory. Find a POS system that can generate GST reports, such as GSTR-1 (outward supplies), GSTR-3B (summary return), and others.
User-friendly Interface:
To make it easy for users to navigate through and reduce the chances of errors, the POS system should have a user-friendly interface.
Security and Data Privacy:
Protect sensitive customer and financial data by ensuring the system complies with data protection regulations.
Customer Support and Updates:
To stay compliant with evolving GST regulations, choose a provider that offers reliable customer support.
Scalability:
Choose a POS system that can handle more transactions and more complex GST requirements as your business expands.
Conclusion
Today's competitive global marketplace requires that business owners stay on top of GST compliance. A POS system that complies with GST regulations offers many rewards. From precise tax computations and detailed reports to improved customer experiences, you get everything in one place. With the correct system and effective response to regulatory modifications, GST compliance can be managed with ease. Long-term gains go beyond simply meeting rules – investing in a compliant POS leads to more efficient processes and increased profitability.
Wondering where can you find a GST-compliant POS System? At VasyERP, you can get a GST-compliant and business-specific POS system that will ensure you adhere to government standards.
For any queries regarding the POS system, reach out to us at sales@vasyerp.com or ring us at 91 8140364036.
Related Post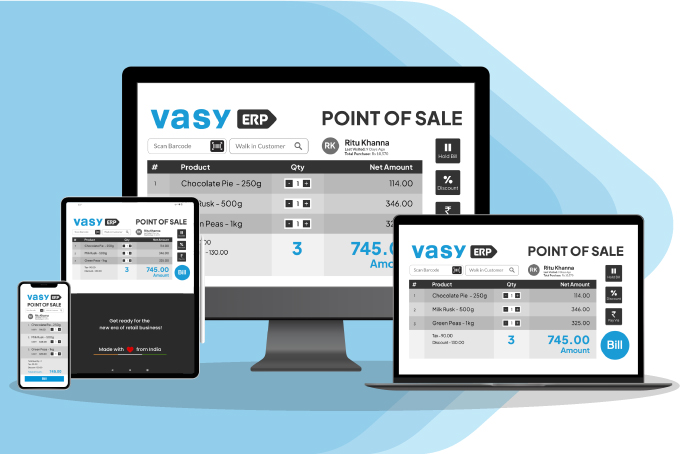 Tracing the development of Point-of-Sale (POS) systems ...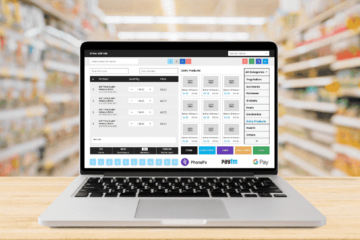 POS Software for Supermarket and Grocery Stores Are ...