Modern retailers have transitioned from simple cash registers and manually managed ledgers to digitally powered solutions such as point of sales (POS) systems. POS system offers a single platform for the acceptance of payments, monitoring of transactions, and the utilization of data to understand customer trends. The shift from traditional to cloud-based technology is further simplifying the ability of POS systems to adapt to changing market expectations. 
Modern consumers seek customized and personalized experiences that offer a degree of uniformity, irrespective of whether they're purchasing online or at a physical store. Best-in-class POS software for retailers meet these customer needs optimally and keeps retail businesses and supermarkets ahead of their competitors.  
This article details what POS software is and how it works and further explains why retailers need integrated cloud-based POS software systems for their billing and payment needs.
What is a Point of Sale or POS System?
Point of Sale (POS) software is an application suite that allows retailers to process payments after customers purchase goods/services. Point of Sale (POS) systems function as a centralized system that unifies sales, billing, payment, stocks and inventory, and customer data– all in one place.
Whether you are a retailer, supermarket, mom-and-pop store, or multi-chain retail business, all you need is an integrated POS software system to accept, record, and manage payments.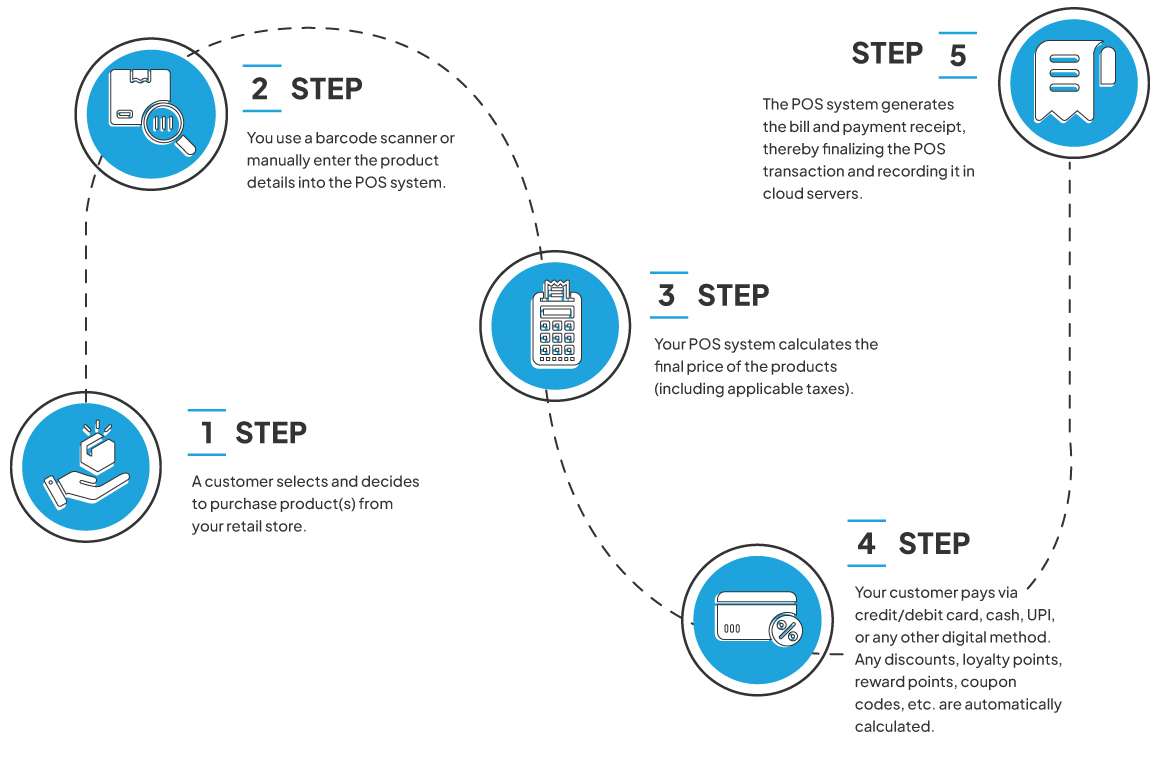 Cloud-based POS solutions vs Legacy Systems:
Point of Sale systems can be either locally – hosted on servers and networks owned by businesses on their premises (legacy systems), or cloud-based, where they can access the system via the internet.
The below table of comparison explains the difference between both types of POS systems:
Why Do Retailers and Supermarkets Need a POS Software Solution?
India's digital retail transactions witnessed a 17.5% year-on-year growth between 2021 and 2022. With such developments in the digital payment realm in the retail industry, it is essential for retailers to keep themselves tech-savvy with the smartest POS solutions for digital payments.
Below are some of the top reasons why deploying POS software is inevitable for retailers and supermarkets:
Delivering superior customer experiences
In the current competitive marketplace, it is crucial to deliver superior customer experiences to prevent your customer from going to your rivals.
Enhancing customer experiences with speed, precision, and facility of multiple forms of payment is crucial to keep your customers content with your services.
Swift processes at the point of sale will reduce billing counter queues and your customers will find it more convenient and time-saving to purchase from you.
Efficient and Faster Payment Processing
Manual cash registers or low-quality POS systems hamper your ability to expedite the processes at billing counters.
On the other hand, high-quality POS software that adheres to industry standards has inbuilt systems designed to expedite the processes at the billing counters, especially the busy counters at supermarkets.
The mPOS billing solutions allow retailers to bill and accept payments via mobile-based applications. 
Robust Inventory and Stock Management
A reliable POS software delivers powerful inventory control features enabling retailers to maintain an accurate stock record, oversee product accessibility, and simplify the restocking procedure.
The inventory handling capabilities of the POS system allow retailers to check inventory levels instantly, avoiding the risk of running out of stock and guaranteeing customer-favorite items are consistently available.
The software can create automated notifications when the stock dips below a set limit, facilitating timely restocking by retailers.
The POS software can offer insightful data on product success, empowering retailers to discern best-selling products and adjust their inventory as necessary.
Easy Returns and Refund Management
Efficient returns and refund management is crucial for maintaining customer satisfaction and loyalty.
A robust POS software simplifies the process of handling returns and managing refunds, ensuring a seamless experience for both customers and retailers.
The POS system empowers retailers to effortlessly handle returns, and with user-friendly software, sales staff can rapidly access the original transaction data, confirm the eligibility for return, and kickstart the refund process.
This efficient procedure reduces customers' wait time and improves customer service.
The POS system can autonomously refresh inventory numbers and create precise reports on items returned, giving retailers the ability to monitor return trends and spot any persistent problems.
Insightful Sales and Billing Reporting
In today's fiercely competitive retail industry, it's also crucial to transform data into actionable insights.
Precise and insightful reporting on sales and invoicing is crucial for retailers in making knowledge-based business choices.
An all-inclusive Point of Sale (POS) software provides powerful reporting attributes, offering a crucial understanding of sales efficacy, consumer patterns, and general business expansion.
Invoice reports produced by the POS software give a detailed summary of all transactions, permitting retailers to balance their accounts, monitor cash movements, and maintain precision in financial documentation.
These reports also assist in pinpointing any inconsistencies or possible problems in the invoicing procedure, allowing for prompt settlement.
Inbuilt Loyalty and Membership Management Feature
POS software comes with integrated features for managing loyalty and membership programs, allowing retailers the ability to successfully run customer loyalty schemes.
Through the POS system's facilities for loyalty management, retailers have the simplicity of enrolling customers into loyalty schemes, monitoring their buying habits, and offering rewards for their loyalty.
The software has the ability to create custom offers and price reductions tailored to each customer's preference, thereby improving the shopping experience and promoting recurrent buying.
Integration with WhatsApp for Enhanced Customer Engagement
The integration of POS software and popular communication channels, such as WhatsApp, can dramatically improve customer interaction and engagement.
By merging POS software with WhatsApp, store owners can exploit the extensive reach and acceptance of this platform to interact directly with their customers.
They can deliver tailored order confirmations, updates on delivery, or marketing messages, ensuring customers are consistently informed and involved throughout their purchasing experience.
The integration with WhatsApp also supports smooth customer service operations.
Customers can contact retailers directly via WhatsApp for any questions, suggestions, or problem-solving. This heightens the overall buying experience, cultivating a feeling of trust and loyalty.
Secure Payment Transactions
When customers pay at POS terminals, they share highly sensitive and confidential financial data of their cards, bank, and UPI-related information.
A secure POS billing software that meets regulatory guidelines and data compliance requirements as per GST laws can keep retailers safe from violation penalties or legal actions due to customer financial data leakages.
A PCI-DSS-compliant POS software also prevents cybersecurity incidents, malware attacks, data thefts, or ransomware attacks on your systems.
Multiple Billing Counter Management
Supermarkets and large retailers have multiple billing counters. Overseeing numerous checkout stations in supermarkets and big retail stores can be quite challenging.
This task can be simplified and made stress-free with Point of Sale (POS) software that comes with features explicitly crafted for managing several checkout counters effectively.
Conclusion:
Although manual billing handling is an option, it's not as efficient and it's susceptible to mistakes and fraudulent activities. Point of Sale (POS) systems provide retailers with the means to effectively and precisely handle and document customer transactions. It unifies inventory, centralizes payment data, and records billing information.
However, merely deploying any POS will not bring the required results. For efficient billing and Point of sale functionality, it's crucial that the POS has an intuitive interface, and bespoke features, and is adaptable to your specific needs.
Vasy ERP offers industry and business-specific POS billing software systems that come with integrated ERP, accounting, and omnichannel e-commerce. With over 12K+ retailers using VasyERP to manage their retail operations, it is one of the most trusted integrated ERP solutions available in the market. 
For queries related to setting up the best POS software and billing solution for your business, feel free to mail us at sales@vasyerp.com or call us at +91 8140364036.
Related Post
If managing billing, inventory, payment gateways, or ac...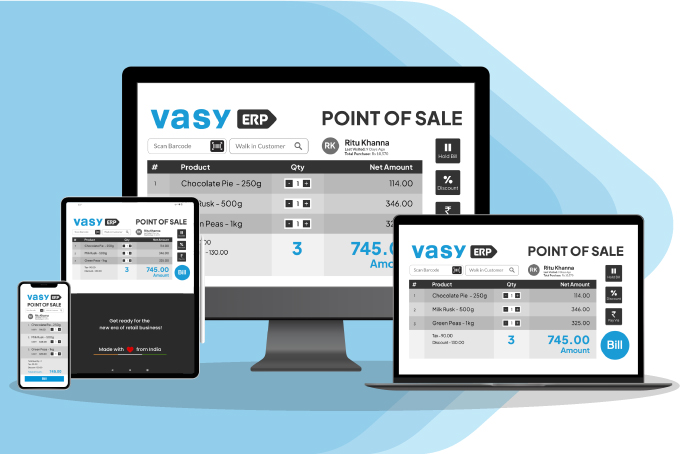 Tracing the development of Point-of-Sale (POS) systems ...