Trusted By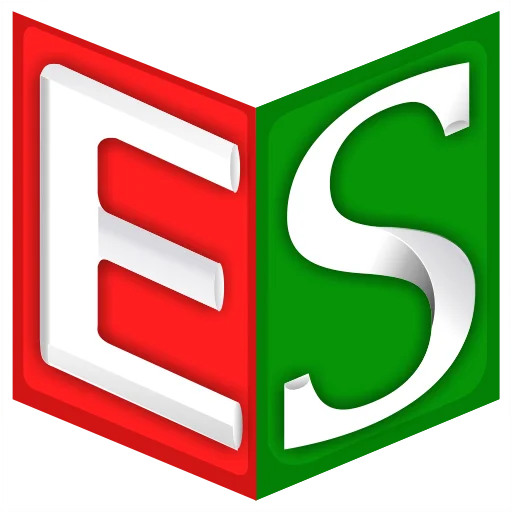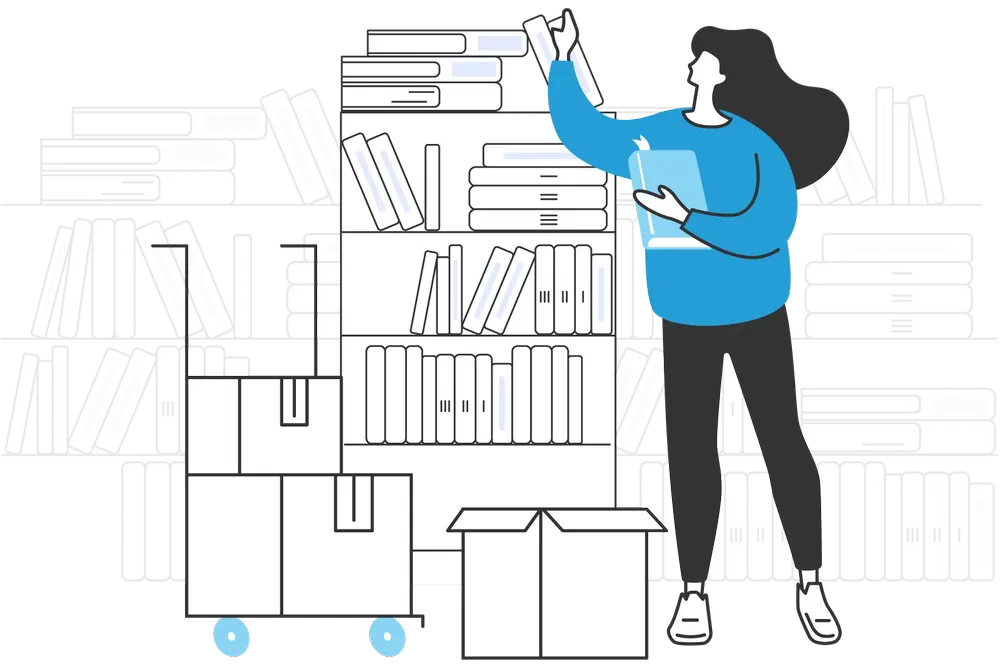 Precise


Inventory Management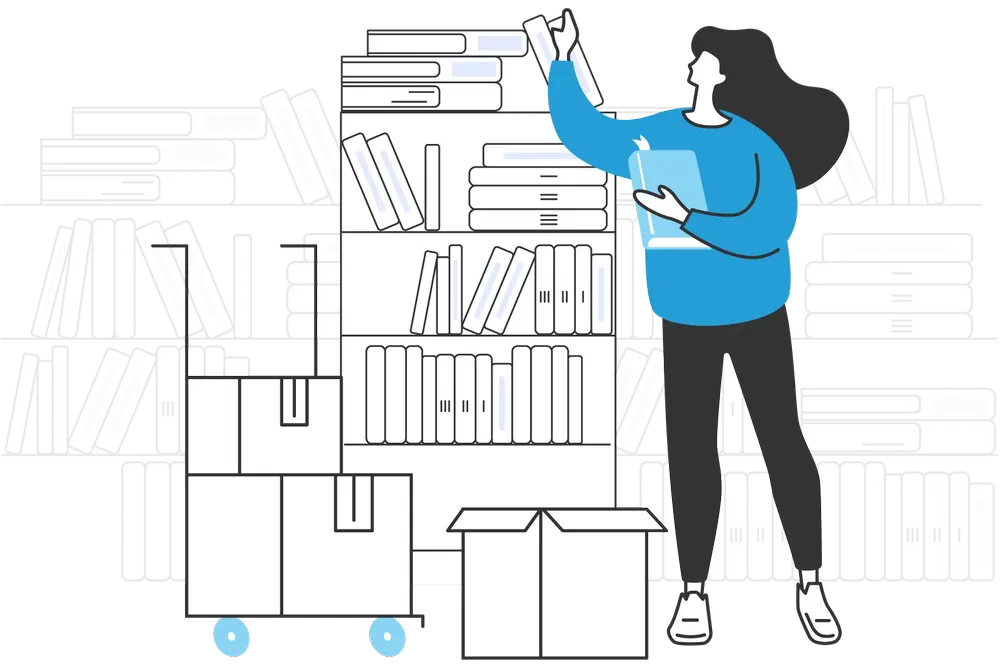 With VasyERP bookshop software to manage your inventory, you will never have to say "Out of Stock" or 'Currently Unavailable' to your customers
Stock management and reporting
Barcode and Label Generator
Stock alerts for highest/lowest selling
Zero-Worry


Billing & Sales
Generate GST-compliant invoices within seconds, send invoices on mobile, and allow multiple payment modes for your customers
Error-free invoicing
Digital invoices on WhatsApp
UPI integration and payment gateways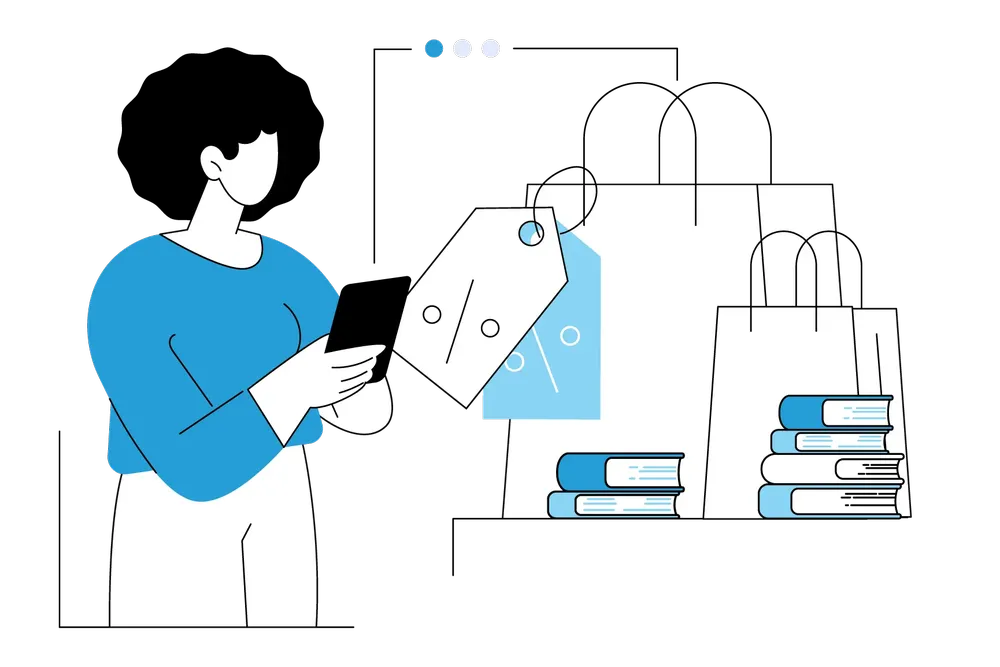 Smart


CRM Module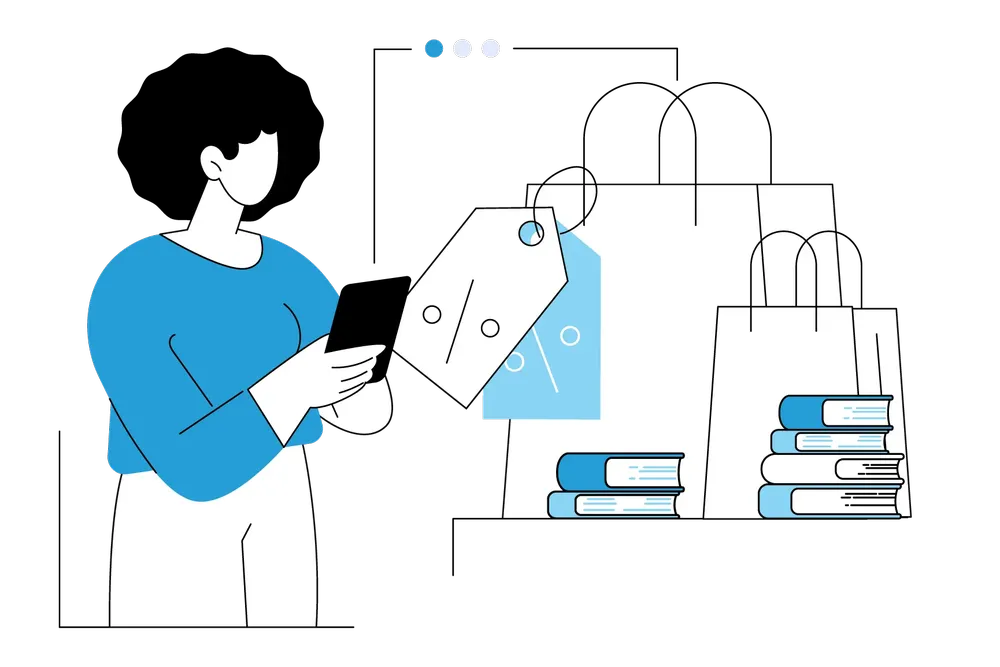 Book enthusiasts love offers and discounts. Wish birthday greetings, send notifications for the latest book arrivals, and manage bookstore memberships like a PRO with our Smart CRM Module
Loyalty points management
Customer database and profiling
Discount and Offers management
Custom


Online Store
Create your online book store easily using V-commerce–VasyERP's platform for building custom e-commerce store or integrate with Shopify or WooCommerce
Omnichannel capabilities
Custom E-commerce Store
Multiple payment integration
Feature-Rich

Bookstore Software
Every Feature is like a Delightful 'Page' from a 'Bestseller Book'
Point of Sale (POS) System
Billing
Bookstore Inventory Module
Bestseller
Card Swipe & UPI Integration
Label and Barcode Generator
WhatsApp Integration
Loyalty and Membership Points
Event Reminders
Offers and Discount Management
Stock Verification

Reporting and Analytics
Customer Feedback and Reviews
Online Store Management
Cash Tender & Register Trackingn
Experience Now
Have Multi-Chapter
Bookstore Locations

? No Worries!
Manage all your bookstore locations under one cover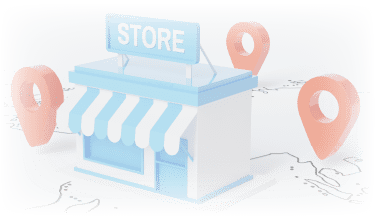 Multilocation Management
No matter how many branches/franchises you have, monitor and manage workflows from all of them with our single billing software for bookshop
Centralized Inventory Control
All book stock and their data are available under the central inventory system where you can see real-time inventory status across all branch locations
Unified Customer Database
Treat all customers from all branches equally with the same offers and discounts and track customer profiles for all branches with a central database
Stock Transfer & Request
Fetch stocks from any branch when needed and conduct no-hassle stock transfers with real-time updates with our stock transfer & request features
Central Accounting
With this feature, you are under control of all your store's financial data and accounts under one head. Achieve one business one accounting goal

Central Reporting & Analytics
While you can get separate finance /CRM/sales/ purchase/stock reports for single branches, even combined reports across all stores are available easily 
A
Singular Solution

for Your Bookstore's Every Chapter
Our integrated bookstore inventory software has everything your store needs
Powerful POS Solution
Manage Multiple Stores Anywhere, anytime!
Manage your inventory and barcode
Manage multiple payment modes
Reports That Improve Forecasting and Analytics
Launch Online store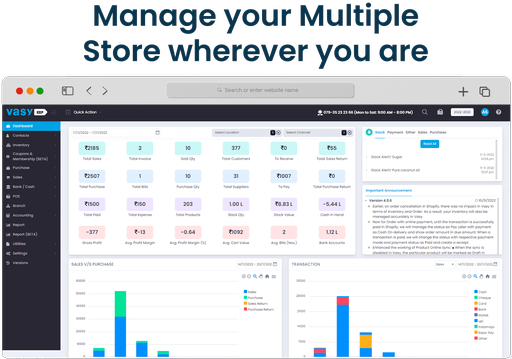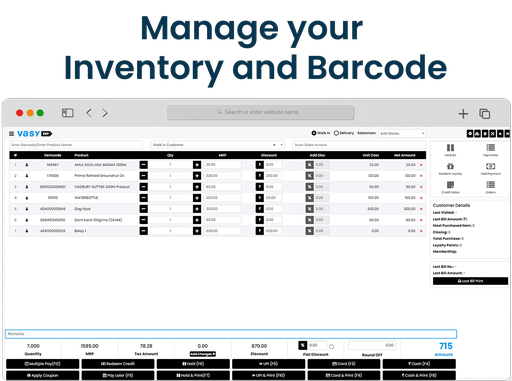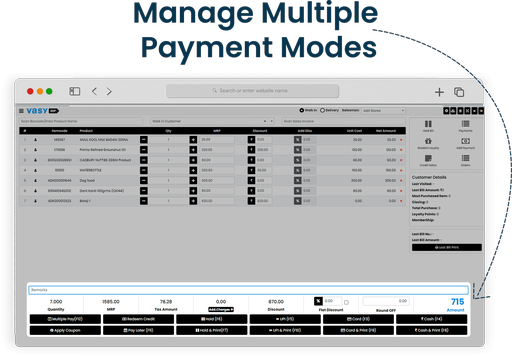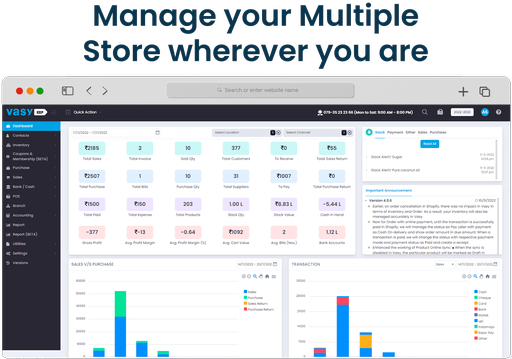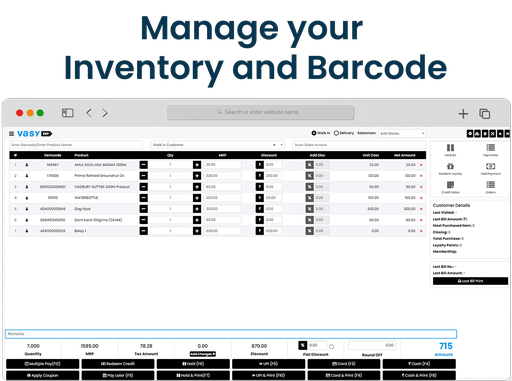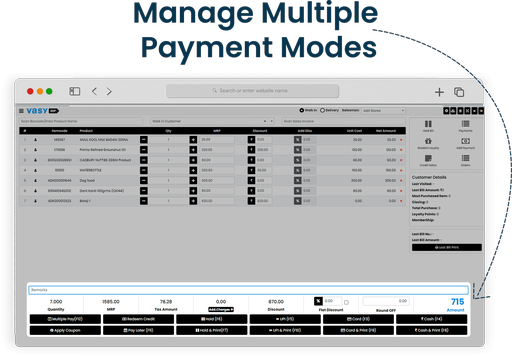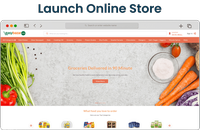 Billing Hours


Saved/month
Why
VasyERP

?
VasyERP presents all features required by bookstore businesses
Cloud-based bookstore software
Stay connected with your bookstores and access all data/reports 24/7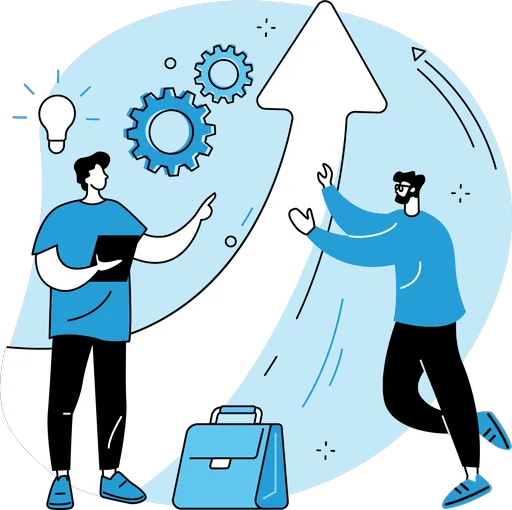 Experience 
With over a decade in business, we are immensely experienced in creating a retail solution
User-Friendly
The best solutions are easy to operate and intuitive. VasyERP is super easy to run for users.
Affordable
VasyERP's bookstore inventory system is not only feature-rich but also pocket-friendly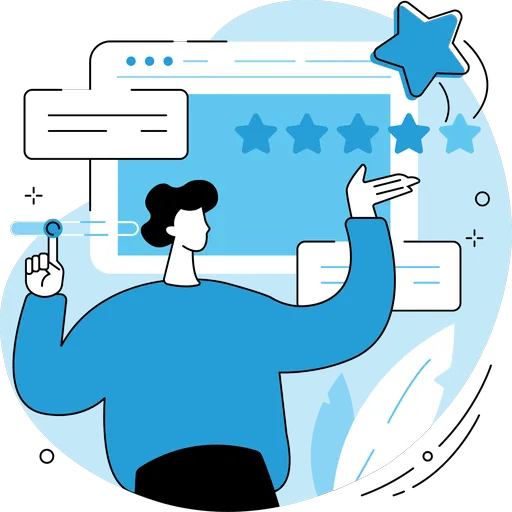 Client Satisfaction
We have an astounding customer success and satisfaction rate with 12K+ happy clients
Prompt Support
We have an astounding customer success and satisfaction rate with 12K+ happy clients
Training & Implementation
We have a reputation for offering the best training and implementation guidance in the industry without extra costs
Seamless
Integrations

With Multiple Platforms
Our bookstore POS software integrates with all major e-commerce platforms and payment gateways
12,000+

Merchants Who
Choose Us
India's Most Trusted ERP
 for the Retail Industry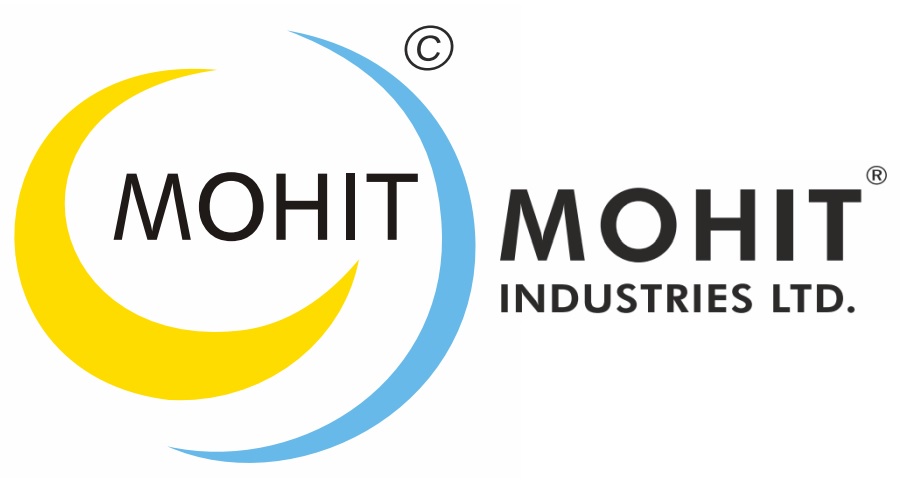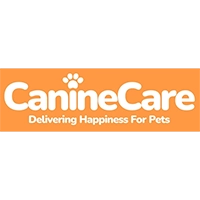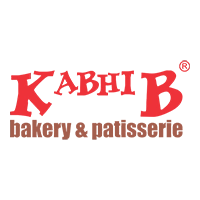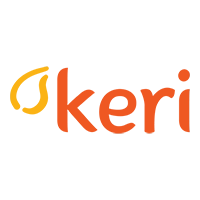 VasyERP:
'Scripting'

Real-life Success Stories For Bookstore Retailers
We created VasyERP to reduce your in-store workload, provide you with a platform for online sales, and help you keep your customers in love with your bookstore!
We understand that bookstores have a lot to manage. From arranging bookshelves, assigning book records, doing sale entries, and maintaining registers for rented books to ordering new bestsellers, sending offers to customers, doing accounting, and filing GST returns, a bookstore is a busy place. VasyERP has the perfect solution to make the lives of bookstore owners easy. Focus on attending to your customers and suggesting to them the top reads while leaving workflows, billing, inventory, accounting, and CRM to VasyERP.
Eliminate all the challenges and achieve higher productivity in bookshop operations with our all-in-one bookstore POS solution.
Our support and implementation team are more than happy to solve all your queries!
Avail of the free Demo now!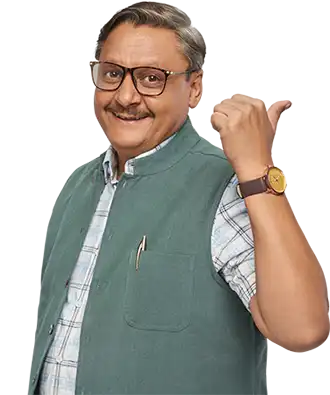 Vasyerp working for you to build your business super efficient
Get Product Demo So You're Confident It's the Right Fit. Stay Focused on What You're Good at and Let Us Improve Your Store Experience and Efficiency.
12000+ Customers
4.5+ Google Review
FAQ!

Need Help?
We've got you covered
Bookstore software is an application or software suite designed specifically for bookstore owners. The bookstore software also popularly known as bookstore inventory software or billing software for bookshop helps bookstore owners in managing their bookstores efficiently. The software has features for managing single-store book-selling businesses to multi-branch bookstore chains. Top bookshop software vendors like VasyERP provide additional features such as e-commerce sales integrations like Shopify and Bigcommerce.
Moreover, it can produce sales reports, improve business efficiency, and manage suppliers, and customer relations. automate ordering, and even identify best and worst sellers. Some systems also offer loyalty program integration and theft prevention tools and allow the business to scale to multiple locations. Integrated bookshop software like VasyERP also comes with an
mPOS
payment function. In essence, a bookstore system is a comprehensive solution to manage and streamline bookstore operations.
The key benefits of bookstore software are:
Implementing VasyERP's Bookstore POS Software offers a range of benefits:
Better managed book stocks as per authors, publication dates, publications agency, genre, etc.
Digital record of customers, complete database with segmentation features
GST-compliant POS billing and Invoicing
Run on both – Windows and Android OS
Access store data and financial reports like P&L anytime and from anywhere with a few clicks
Cloud-based bookstore software keeps your customer data and store information safe and secure
Better managed new stock purchases, sales, and reorders
Enhanced in-store customer experience with a no-queue checkout and super-organized bookshelves
Offer multiple payment options to customers with payment integrations
Error-free accounting, easy stock audit, and verification
Beat your competition by selling both physically and online
Easy offers, promotions, and loyalty management
Significant cost savings
Centralized control for multi-store book retailers
So many software vendors in the bookshop software category advertise their software and claim to be the best. It is difficult for bookstore owners to decide which one is actually worth their money. Making the right decision can result in immense profitability and efficient bookstore business. On the contrary, a wrong choice can be a costly mistake. 
Here are some steps, and things to consider before you buy a bookstore POS and inventory system:
Check the experience, current customers, profile, and portfolio of the bookstore software vendor
Check the features and offerings including integrations. The software must accommodate must-have features for POS.
Look for a comprehensive software solution that offers everything from accounting, invoicing, and inventory to e-commerce and CRM modules all in one.
Evaluate the software provider in terms of cost-effectiveness, service quality, and customer-centric approach
Make a list of your challenges and requirements and ask the vendor about possible solutions; you can evaluate the bookstore software provider based on their replies and understanding of your situation.
Ask for a demo and learn things. A demo can clear a lot to you about the software and vendor's expertise.
If the provider has multiple retail solutions, for example, POS for grocery stores, Billing software for bookstores, Stationery store software, Inventory software for footwear stores, etc., then this shows their extensive services, vast retail experience, and skills in creating retail solutions.
We have the best training and implementation team in the bookshop software solutions category. Our support extends up to a month of rigorous training and onboarding support without extra charges. We make sure you learn the software thoroughly and are able to run all functions without issues. Our objective is to let you enjoy and benefit from all the features that we have designed for unique bookstore needs. 
VasyERP has designed the billing software for bookshops to manage multiple bookstore branch locations and franchises. Central accounting, unified inventory management from all locations, a unified customer database, and everything on a central dashboard, are features structured in a way to help bookstore businesses with multiple branches easily manage their bookstores from a central system.
We have accommodated all features that are required by bookstore businesses and believe that you will not require any additional features.  However, still, if you have any specific feature request to add to the bookstore inventory system, we are open to providing customization where required as per feasibility checks.
VasyERP is the best billing software for bookshops with affordable pricing and exceptional features. No wonder we have a best-in-class 4.5* rating on Google Business. VasyERP's pricing is not only affordable but also customer-centric. We believe in a clear, transparent, and 'no hidden charges' pricing structure. We know customers want a simple and understandable pricing that accommodates their needs. We have, therefore, created pricing plans for all types of bookstore businesses ranging from single-outlet bookshops to multi-chain bookstore businesses. Contact our team for more details on pricing.
The package for the bookstore software includes free updates and feature additions for the plan's duration. All essential security updates and feature enhancements are rolled on automatically. Our software services are kept up-to-date with the latest requirements and security needs.