While today's consumers are eager for customized offerings, quick services, omnichannel retail experience, and queue-free checkout counters, it can be challenging for retailers to provide these services unless they find the most suitable solution for their unique needs. One such tech-based solution is mPOS. The mobile point of sale (mPOS) has revolutionized the retail buying experience and has made the lives of retailers super easy. It gives retailers the flexibility to bill and process payments of their customers from mobile devices and tablets (desktops not required).
With mPOS, the transaction zone has extended beyond the cash register and retail sales associates equipped with mobile devices/tablets can now process billing payments from anywhere in the retail store.
However, these benefits are possible only with a mPOS solution from a top retail solutions provider that understands your business intricacies. Providing an uninterrupted and seamless customer experience in your retail store will require an mPOS that has highly secure cloud technology, comes with lightning-speed of transactions, and has unfailing precision.
This post will enlighten retailers with information related to mPOS technology and tools and aims to help retailers in finding the best mobile point-of-sale software for their business.
What is an mPOS?
An mPOS is a Mobile Point of Sale that offers POS with the convenience of using the service on mobile phones/tablets without the restriction of deployment on desktops or laptops only. Rest the solution is similar to desktop POS in terms of functionality and features. Mobile Point-of-Sale (mPOS) tools offer retailers the convenience of processing payments on the go, thereby ensuring an unparalleled omnichannel customer experience.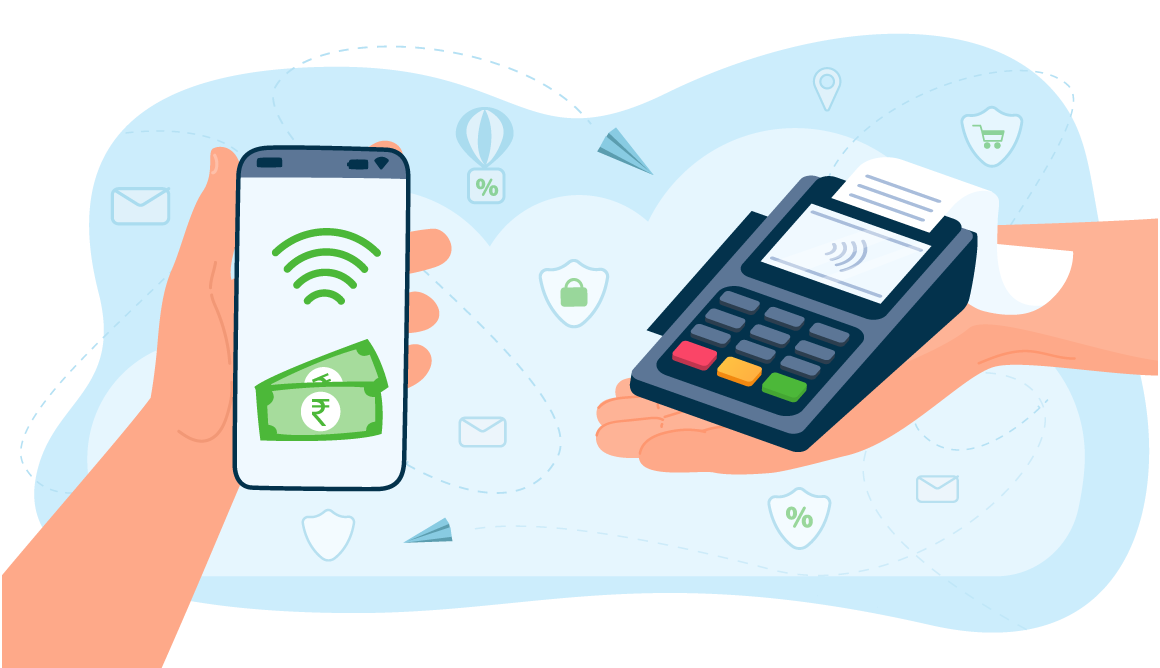 From queue management and omnichannel experience to client relations and multiple payment avenues, mPOS armed retailers with all tools that ensure an unparalleled experience for their customers.
The modern mobile Point of Sale (POS) systems are composed of a mobile payment application and a device for reading credit and debit cards. You have the option to integrate your mobile POS with additional accessories such as barcode readers and receipt printers to make your operations more efficient.
Types of mPOS
The Key Features of an mPOS
Queue management: The flexibility of mobile devices enables customers to shop from any location within the store. mPOS systems efficiently manage customer queues at retail counters by allowing mobile payments and reducing wait times.
Client relations: mPOS systems facilitate enhanced customer engagement by enabling businesses to access customer data, purchase history, and preferences on their tablets/mobile devices. This information can be leveraged to provide personalized recommendations, targeted offers, and a more personalized shopping experience.
Multiple payment avenues: mPOS systems support various payment options, including credit/debit cards, mobile wallets, contactless payments, and even alternative payment methods like QR codes. This flexibility accommodates diverse customer payment preferences and provides a seamless shopping experience.
Integrations: mPOS solutions like the one offered by VasyERP come with integrated business tools such as inventory management, stock control, e-commerce, billing, analytics, etc. These integrations streamline operations, enhance data analysis capabilities, and enable businesses to make informed decisions.
Accounting: The contemporary mPOS systems come with built-in accounting features that enable retail businesses, supermarkets, and retail chains to track their comprehensive data and do accounting related to sales, and generate financial reports with a click.
Inventory management: mPOS solutions stock management functionality, allows businesses to track inventory levels, receive real-time updates on product availability, and automate inventory replenishment.
High-speed transactions: mPOS systems facilitate fast and efficient transaction processing, quick authorization, confirmation of payments, and purchase completion. This reduces checkout time and enhances the customer checkout counter experience.
Reward Points: A typical mPOS system naturally logs every transaction. This leads to readily available crucial data about consumers, such as their reward points, demographic details, and buying patterns. This information can be immensely beneficial when strategizing your upcoming specific marketing initiative.
Customer analytics: mPOS solutions come with next-generation analytics capabilities that enlighten retailers about customer behavior, preferences, and purchasing patterns. Using this data, store owners can offer an individualized and exclusive shopping journey to every single customer.
Security Features in mPOS
Encryption: The data transmitted between the mobile point of sale device (mobile or tablet and the payment processor) is highly encrypted and protects it from unauthorized breaches.
Compliance: mPOS solutions adhere to the Payment Card Industry Data Security Standard (PCI DSS) ensuring cardholder data privacy and integrity.
Fraud Detection and Prevention: Modern mPOS systems have fraud detection and prevention mechanisms like real-time transaction monitoring, anomaly detection, suspicious activity monitoring, and red flagging.
User Access Controls: To prevent unauthorized access, mPOS systems offer user access controls including user authentication, role-based permissions, and password management.
What Questions to ASK an mPOS Solution Provider Before You Invest in it?
The Worldwide transaction value of mPOS is projected to reach US dollars 5.58 Trillion by 2027 with over 1.94 billion user base by 2027.
This means that the number of retailers utilizing this technology and customers engaging in mPOS transactions is going to increase consistently. If you don't want to lag in adopting this must-have solution for your retail store, you need to seriously think about deploying the best mPOS solution for your business. However, selecting mPOS systems can be tricky. There are multiple questions that you might want to ask the vendor.
To help you in this quest, we have noted down the top questions that you can ask any mPOS software service provider to evaluate their skills, competence, and compatibility with your needs.
Whether the mPOS is customized for your business vertical? For example, is it a generic MPOS or a tailored one like mPOS for Grocery stores, mPOS for Supermarkets, mPOS for Mobile Stores, mPOS for Gift stores, mPOS for Garments, etc  
What will be the hardware requirement for the installation of the mPOS software?
What are the features and utilities offered by the mobile point of sale?
Can the mPOS cater to your current sales volumes? Will the mPOS scale according to your future sales volumes?
What are the costs of installations, hidden costs, ongoing costs, upgrade costs, training costs, etc?
Whether the mPOS solution provider offers free upgrades, installation assistance, and customer support for the software?
Is the system on-premise or cloud-based?
What are the inbuilt security features?
What are the benefits of deploying their mPOS compared to their peers?
What is their experience in the service and current client base?
Conclusion:
Retail businesses that deal directly with consumers strive to deliver an unparalleled customer experience. At VasyERP, we understand that captivating today's omni-consumers necessitates a truly smooth customer journey, integrated services, unified platforms, and customized experiences. Our flawless mPOS software is all you need to keep your retail customers happy.
Our team has developed and implemented mPOS payment systems for some of the leading retail businesses nationwide. With our extensive knowledge and expertise in POS solutions, we steer you toward systems that are secure, efficient, and easy to use. (no complicated systems that are tough to use and come with useless functionalities that you will never use).
For installation queries or availing a free demo of our mPOS software please click here.
Related Post
It's not surprising that retailers feel overwhelmed by ...
Ease Your Retail Business Operations with the Smart Vas...