Trusted By

Powerful


Omnichannel Ecommerce
With omnichannel capabilities, our platform allows you to easily set up your online supermarket store and integrate payment gateways.
Shopify and WooCommerce Integrations
B2B Commerce
Centralize Inventory
Robust


Inventory Management
Get real-time stock updates, restocking alerts, and complete inventory control with our integrated supermarket billing software platform.
Stock control
Barcode and Label Generator
Stock Audit and verification
Integrated


CRM
Gather customer data, know their buying preferences, and create customer profiles for personalized marketing activities and loyalty programs.
Gift Vouchers and Coupons
Bulk WhatsApp Promotions
Membership Points
Grow Your
Supermarket Exponentially


With VasyERP's Top Features
Extensive Range of Features to Run Your Supermarkets Efficiently
Point of Sale (POS) System
Easy-to-use POS that comes with multiple payment options and multi-device operability.
Stock Management
Keep your stocks at accurate levels with robust inventory features from VasyERP supermarket POS software.
GST-Compliant Billing
Ensure GST-complaint billing for your supermarket with our next-generation billing and invoicing system.
CRM
Inbuilt system to manage the customer database for marketing activities and loyalty programs.
Label and Barcode Generator
Simplify the barcoding process, supervise stocks, monitor transactions, and reduce losses.
Multiple Billing Counter
VasyERP billing system for supermarkets works on multiple billing counters and minimizes queues. 
WhatsApp Integration
Stay connected with customers, and send invoices, reminders, and offers through WhatsApp. 
Loyalty and Membership Points
Ensure customer lifetime value with loyalty programs and membership features with inbuilt customization. 
Omnichannel
Set up your online store without hassle with Shopify and WooCommerce Integrations. 
Offers and Discount Management
Manage offers from partner brands and also in-house offers to loyal customers like a Pro. 
Stock Verification
Keep your stock intact and checked with inbuilt stock verification features from our supermarket billing software. 
Reporting and Analytics
Get up to 150 types of detailed reports and analytics and visualize them on our interactive dashboard.
Point of Sale (POS) System
Stock Management
GST-Compliant Billing
CRM
Label and Barcode Generator
Multiple Billing Counter
WhatsApp Integration
Loyalty and Membership Points
Omnichannel
Offers and Discount Management
Stock Verification
Reporting and Analytics
Experience Now
Handle Multiple Supermarket
Branches and Franchises
Manage Multiple Supermarket Store Locations, Inventory, Customer Databases, and Staff with a Centralized System.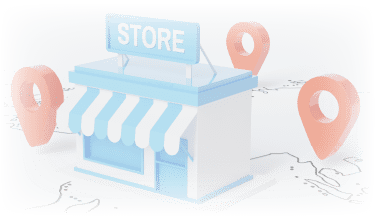 Centralized Management
Oversee multiple supermarket branches and franchises from a single, centralized system.
Centralized Inventory Control
Access real-time data on inventory levels, sales, and performance across all locations.
Single Customer Database
Maintain a unified customer database that spans all supermarket branches and franchises.
Stock Transfer & Request
Perform frictionless stock transfer between multiple locations.
Central Reporting & Analytics
View and analyze all stores' data with insights on a single dashboard with centralized reporting.
Get
Everything

in One Place
Our Integrated Supermarket Platform Provides Everything You Need to Run Your Supermarket's Daily Operations
Powerful POS Solution
Manage Multiple Stores Anywhere, anytime!
Manage your inventory and barcode
Manage multiple payment modes
Reports That Improve Forecasting and Analytics
Launch Online store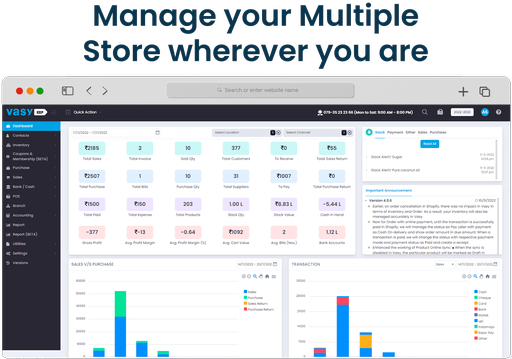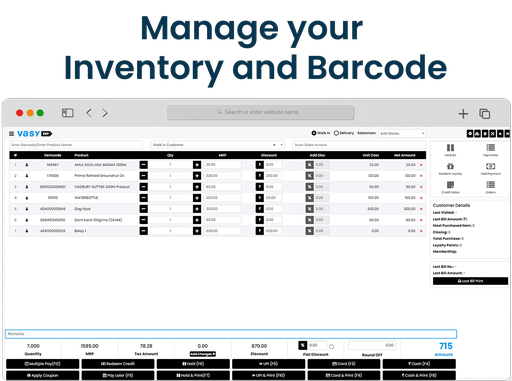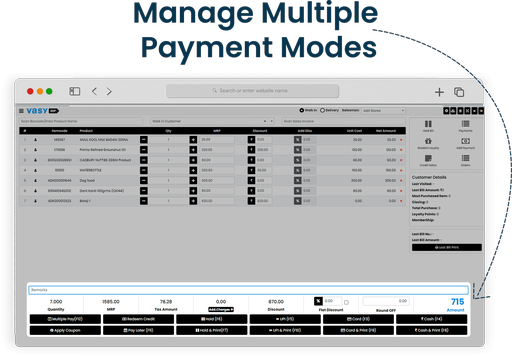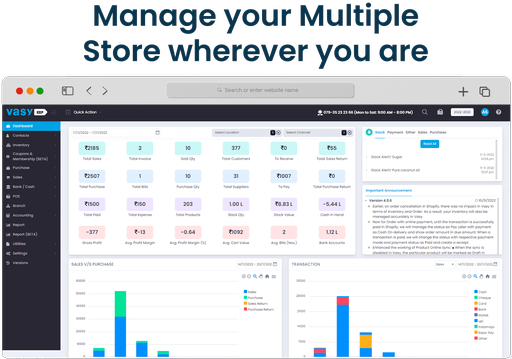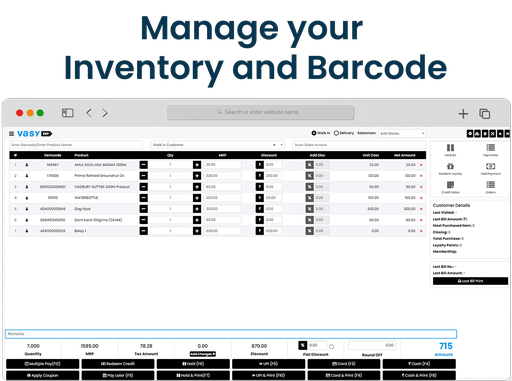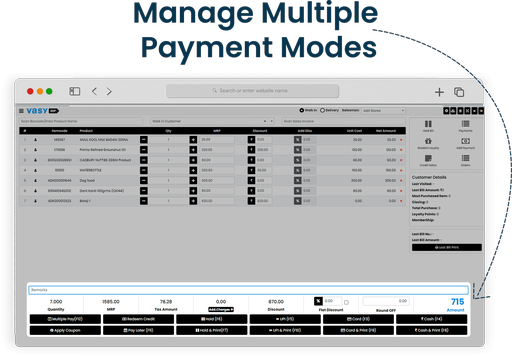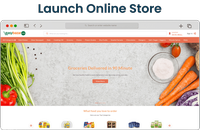 Billing Hours


Saved/month
Why
VasyERP

?
VasyERP Billing Software for Supermarkets Has All Features and Key Integrations, That Are Paramount for Smooth Workflows at Supermarkets.
Cloud-Based Supermarket Software
Simplify the processes, reduce errors, and improve inventory management.
Hardware Independent
Login anytime, anywhere, without hardware worries.
No Data Loss
Safely store data on a secure and reliable cloud platform
Quick Support Team
The Support team is available to provide you with all the assistance
Efficient Integration
Provides smart integration with payment, logistics and many other platforms
Easy Access
Simplified operations with easy access from multiple devices.
Implementation Experts
Our implementation team offers ongoing guidance and support to clients throughout their product training journey.
Speed
Engineered to provide unparalleled speed, precision, and productivity.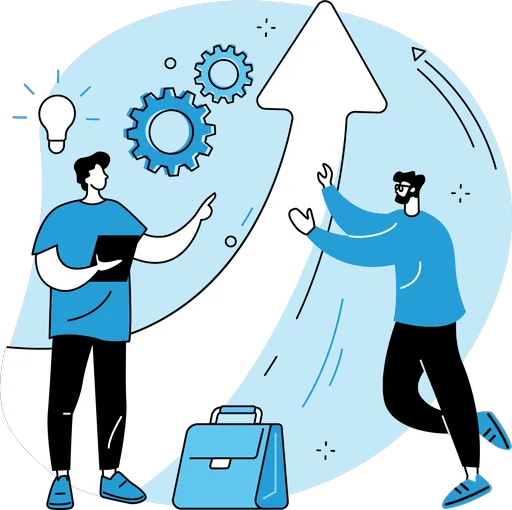 Experience 
Years of experience and leadership in the retail solutions field.
User-Friendly
Our billing system for supermarkets is easy to use and intuitive.
Affordable
Competitive pricing without compromising on features.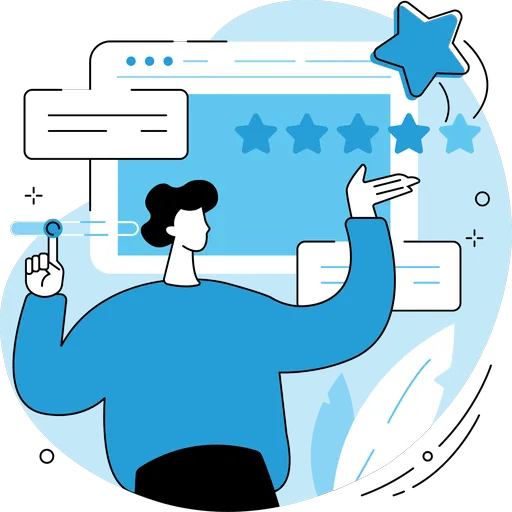 Client Satisfaction
A long list of happy clients with our exceptional services
Seamless
Integrations

With Multiple Platforms
Our Supermarket Software Supports Integration with Various Hardware Devices, Platforms, and Powerful Apps
12,000+

Merchants Who
Choose Us
India's Most Trusted ERP
 for the Retail Industry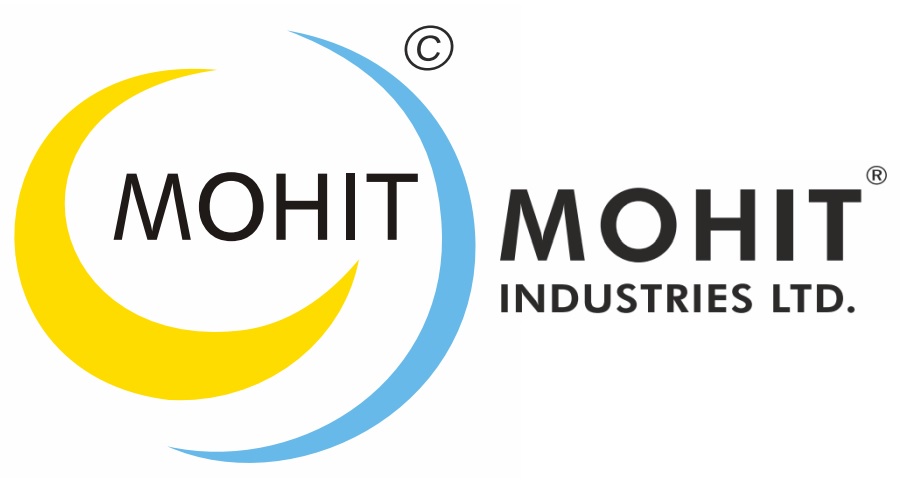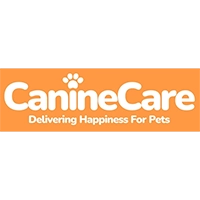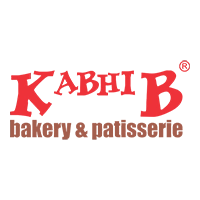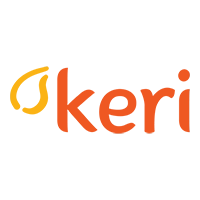 VasyERP: Creating Solutions For More

Productive, and Efficient

Supermarkets
Purpose-built for supermarkets, our seamless billing software comes with an intuitive interface:
We recognize the multiple complexities involved in operating a supermarket - overseeing stock, optimizing operations, delivering top-notch customer support, and smooth transactions, to mention a few. That's the reason for our enthusiasm in presenting VasyERP, a top-notch POS solution tailored particularly for supermarkets like yours!
Build Superior Customer Relationships
Our customers witness increased productivity and improved customer satisfaction.
Our implementation team is happy to resolve any inquiries or questions you might possess.
Avail of the free Demo now!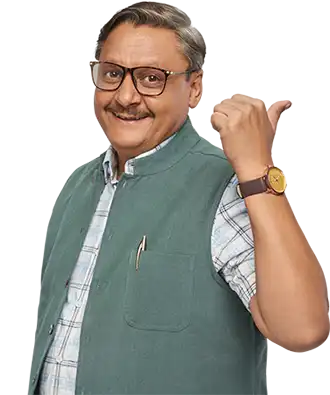 Vasyerp working for you to build your business super efficient
Get Product Demo So You're Confident It's the Right Fit. Stay Focused on What You're Good at and Let Us Improve Your Store Experience and Efficiency.
12000+ Customers
4.5+ Google Review
FAQ!

Need Help?
We've got you covered
Supermarket software is an all-inclusive tool designed to optimize supermarket procedures. From stock management and sales operations to handling customer data and point-of-sale transactions, supermarket software does it all. Today, customers desire Omni channel buying/payment options, so it is essential to deploy the best supermarket billing system to keep your business ahead of the competition. Supermarket software has inbuilt tools for payment processing and billing, point of sale (POS), inventory management, SMS alerts to customers, CRM database, reporting and analytics, and many more that are critical for the functioning of supermarkets.
Deploying
POS for supermarket
offers significant advantages such as:
Efficient Sales
Expedited checkouts
Multiple payment options
Easy stock management
Improved customer assistance
Real-time sales data
Refined loyalty schemes
Better Discount Management
Key Features of VasyERP Supermarket Software are:
Sales Estimates
Sales Orders
Delivery Challan
Sales Invoices
Sales Returns/Credit Notes
Refund & Exchanges
Weigh Sale Integration
Card Swipe Integration
UPI Integration
Multiple Payment Modes
Cash Tender
Product-wise Remark & Tracking
Cashier Register Tracking
Customer Facing Display (Pole + TV) with Dynamic Screens
E-Way Bill Integration
E-Invoice Integration
Customer Purchase Behavior & History
Advance Payment & Settlement
VasyERP for supermarkets is extremely user-friendly with an intuitive interface. However, minimal training is required for staff to operate it effectively and enjoy full advantage of its features. We will provide support and training modules for your staff.
Yes, we are providing customization where needed as per feasibility checks.
Regular software updates are typically part of the package, ensuring that the system remains current with the most recent features, security upgrades, and enhancements.
Regardless of a business's size, our technology effortlessly caters to businesses at all levels. We offer various pricing plans that cater to everyone, from single store supermarkets to Omni-channel supermarkets and even large-scale chain of supermarket enterprises.
VasyERP is committed to providing the best customer support and technical aid for its supermarket software. We extend implementation help to ensure an effortless onboarding experience and to enable you to achieve 100% output potential from our software.