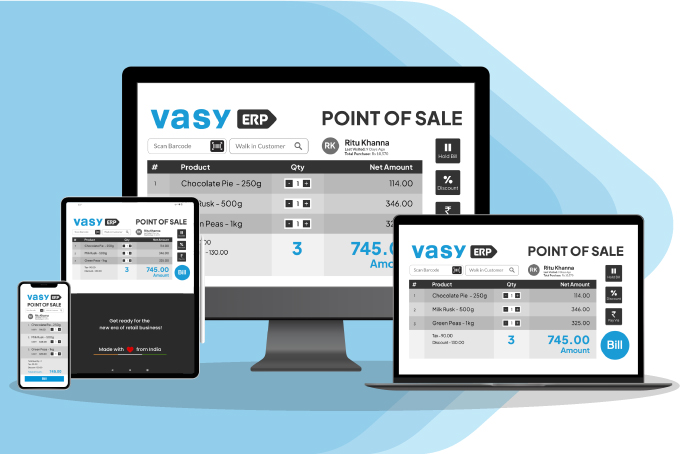 Tracing the development of Point-of-Sale (POS) systems carries us back to the late 1800s when James Ritty invented the first cash register. From then onwards, these systems have seen considerable progression, bringing about transformation in the retail sector. With the growth from simple mechanical apparatus to contemporary digital solutions, POS systems for retail have revolutionized the ways transactions are processed, inventory is managed, and interactions with customers are handled.
This article discusses the diverse types of POS software available for retailers. The POS systems can be broadly classified based on the devices they are deployed on, the technology that powers them, functionality, and industry-specific usage.
Types of POS Software Systems and Their Classification 
​​
Point of Sale (POS) software is an application suite that allows retailers to process payments after customers purchase goods/services. Point of Sale (POS) systems function as a centralized system that unifies sales, billing, payment, stocks and inventory, and customer data– all in one place.
(Source) 
While cloud-based POS systems and mPOS are the most popular known POS types, the classification doesn't end here. The POS systems come in diverse subtypes based on multiple factors that differentiate them.
Let us discuss their classification types in detail:
#1 Classification Based on Device Type
Desktop-Based POS Software:
A desktop point-of-sale (POS) system is a versatile, customizable POS software operating on a computer.
This software, which is installed on a desktop, can perform a variety of functions, from processing payments to generating reports.
It is possible to upgrade the desktop POS when the provider rolls out new updates via the Internet.
The desktop POS system can be procured either as a bundle package from a service provider or through a subscription model.
Tablet POS:
Tablet-based POS systems use tablets as the primary device to run the software.
They offer mobility and flexibility, making it convenient for businesses to process transactions anywhere within their premises.
A tablet-based Point of Sale (POS) system operates similarly to its desktop-based counterpart, leveraging a software application to process transactions.
The tablet POS easily connects to a stationary terminal with a cash register and barcode scanner. Moreover, the same tablet can be utilized with a card reader at specific events.
Point-of-sale solutions for iPad and Android are gaining popularity due to their minimal initial cost and the fact that they often utilize tablets that are already in possession.
Mobile POS (mPOS)
Mobile POS are specially designed to operate on mobile gadgets like smartphones, or touchscreen tablets.
This type of POS is especially useful for businesses that require on-the-go transaction processing.
Mobile POS systems enable you to process payments swiftly and dependably using your phone, in addition to providing comprehensive data on sales and inventory.
The basic necessities for mobile POS systems include a phone, a card scanner, and either wifi or mobile network service.
#2 Classification Based on Technology and Deployment
On-Premise POS Systems
On-premise POS systems require businesses to install the software on their local servers or computers.
All data and operations are managed in-house, providing greater control but requiring higher upfront costs and maintenance efforts.
A traditional system, unlike a cloud POS, operates independently of the internet since its servers function within a restricted network. Hence, the POS can run effectively and uninterrupted even when wifi connectivity is lost.
Businesses that need mobility should incorporate an onsite system to assure smooth operations during peak times when the internet might be unstable.
The setup usually requires hardware installations, data storage capacities, and servers.
Requires an in-house IT expert to handle glitches and oversee smooth functioning.
Contrary to the recurring monthly fees of a cloud POS, a single payment is needed to acquire an onsite POS. Nonetheless, setting up this system can be costly.
Cloud-Based POS Systems:
Cloud-based POS systems are offered by third-party providers who store data on remote servers and provide the POS functionality via the Internet. This eliminates a lot of installation costs and minimizes hardware requirements.  
They enable you to sign in, administer, modify, and monitor from any location with wifi access. Being software-driven, these systems don't necessitate any supplementary hardware beyond the phone, computer, or tablet you currently own, hence they typically result in reduced overhead expenses.
They offer the advantage of data accessibility from anywhere, automatic updates, and lower upfront costs. Retailers have to pay a subscription fee for this service.
POS systems that are cloud-based operate entirely online and are easy to use. (Comparable to how one access an app like Facebook, or Banking Apps).
Open Source POS Systems:
Open-source POS systems provide source code access, allowing retailers to customize and modify the software to suit their specific needs. This offers a high level of flexibility but may require technical expertise for implementation.
Its operational features provide businesses with the ability to modify these systems to meet their specific requirements, making it an excellent choice for very large-scale businesses.
This option is recommended for users who possess a greater level of skill and have both the time and understanding to navigate them.
#3 Classification Based on Functionality
Handheld POS
A Handheld POS system is a unique kind of point-of-sale solution that functions on portable and specialized Handheld POS machines.
Handheld POS devices enable employees to process transactions on the shop floor, providing personalized assistance to customers and minimizing checkout waiting times.
This solution offers vendors the flexibility to handle transactions and oversee sales activities from any place within the retail premises. Handheld POS devices enable sales staff to interact with customers anywhere in the store, offering a more tailored and efficient shopping journey.
Transactions can be completed immediately, removing the necessity for customers to queue at a central checkout station.
Handheld POS devices are commonly linked to a central database, delivering real-time data on stock levels. Sales staff can verify stock availability and even make orders for items that are out of stock while helping customers.
Handheld POS systems can handle a variety of payment options, including credit/debit cards, mobile payments, and digital wallets.
Self-Service Kiosks
Kiosk POS systems, or self-service POS systems as they are often referred to, are uniquely crafted to let consumers initiate and complete purchases independently, without any store representative.
They are stand-alone units with Wi-Fi connectivity, providing customers the option to scan, order, and pay, reducing wait times and enhancing the overall shopping experience.
These Kiosks come in a multitude of forms and dimensions, though the majority feature a stationary stand, interactive screen, touchscreen, and card reader.
Since kiosks facilitate a touchless, seamless checkout, they free up staff to concentrate on other aspects such as customer engagement, hospitality, and service.
#4 Classification Based on Industry and Business Verticals
While the industry-wise POS list can be very extensive, the below are the most popular industry-specific POS available in the market.
Created to handle extensive payments and workflows in supermarkets with substantial transaction quantities.
Synchronizes with stock management systems to monitor inventory levels instantly.
Supports various payment methods, like cash, credit/debit cards, and smartphone transactions.
Incorporates customer loyalty initiatives and incentives to motivate recurrent buying.
Facilitates effective control of discounts, promotions, and sales activities.
Delivers detailed sales analysis and powerful data for improved decision-making.
Customized point-of-sale systems are provided for grocery stores that offer a wide array of products.
Equipped to support various modes of payment and options for handling cash transactions.
Includes the feature of barcode scanning and weight consideration for precise pricing.
Efficiently manages discount offers, coupon codes, and loyalty schemes tailored to grocery products.
Special features for handling perishable goods and monitoring their expiry dates.
Focuses on managing apparel inventory in a range of sizes, colors, and styles.
Simplifies the management of seasonal assortments and clearance sales.
Collaborates with fitting room administration to keep track of reserved items.
Provides options for inputting particular apparel details like size and fabric type.
Allows multiple images for each product to show various angles and shades.
Provides sales personnel with real-time inventory information.
Enables the collection of customer data for targeted marketing and personalized deals.
POS for Fashion Accessories / Boutique Stores
Customized for stores specializing in fashion accessories.
Integrates with CRM systems.
Handles small-sized items with unique SKU codes for easy identification.
Allows for easy creation of bundled product offers and gift sets.
Offers specialized reporting for analyzing the performance of different accessory categories.
POS for Watch & Accessories Stores
Specially designed for stores focusing on watches and related accessories stores.
Supports serial number tracking for each watch to prevent counterfeiting.
Provides detailed specifications for each watch model, including features and materials.
Allows for management of warranties and after-sales services.
Integrates with watch repair and servicing modules.
Supplies comprehensive sales data and analysis for customer-favored watch styles and dimensions.
POS for Footwear Stores
Enables easy handling of shoe stock encompassing various sizes and designs.
Facilitates barcode scanning for swift product recognition and pricing
Oversees product returns and replacements effectively, taking into account size and fit discrepancies.
Synchronizes with CRM to monitor customer inclinations and past purchases.
Presents alternatives for establishing reward schemes and footwear-specific deals.
POS for Purses / Bags Stores
Customized for stores selling handbags, purses, and other types of bags.
Includes options for handling different bag sizes, colors, and materials.
Manages inventory for limited-edition or seasonal bag collections.
Offers bundle pricing for bag sets or matching accessories.
Integration with various payment methods for a seamless checkout experience.
POS for Suitcases Stores
Custom-made for retailers focusing on luggage and travel bags.
Capable of managing different sizes and designs of suitcases, each with unique SKU codes.
Accommodates product attributes like wheels, material, and load-bearing capacity.
Provides options for offering additional travel accessories at the point of sale.
Manages warranties and after-sales services for suitcases.
POS for Imitation Jewelry
Designed for stores selling costume or imitation jewelry items.
Supports various jewelry types, including necklaces, earrings, bracelets, etc.
Manages inventory for different designs, colors, and materials.
Provides detailed product descriptions and care instructions for each item
Offers real-time inventory updates for online and in-store purchases.
POS for Pet Store
Customized for pet stores catering to a wide range of pet products.
Handles different pet food brands, sizes, and flavors.
Manages inventory for pet accessories, toys, and grooming products.
Supports barcode scanning for pet ID tags and microchips.
Integrates with loyalty programs for pet food purchases.
Provides reminders for customers about pet vaccination and check-ups.
POS for Kids Store/Toys Store
Designed for stores specializing in children's toys and games.
Supports barcode scanning for toys with specific product codes.
Allows for easy bundling of toys and gift sets.
Integrates with loyalty programs to reward frequent toy purchases.
Provides real-time inventory updates for popular toy items.
POS Book Store
Tailored for bookstores selling books, magazines, and stationery items.
Manages inventory for various book genres, authors, editions, formats, and publishers.
Supports book recommendations and related items based on customer interests.
Integrates with book club memberships and reading reward programs.
Provides analytics on popular book titles and genres for better stocking decisions.
POS for Hardware Store
Handles a wide range of hardware items, such as tapes, wires, cables, and connectors.
Allows for bulk pricing options for larger quantities of hardware items.
Manages inventory for different brands, sizes, and specifications.
Provides real-time stock updates to avoid backorders and stockouts.
POS for Stationery Stores
Customized for stores selling stationery items like pens, notebooks, and art supplies.
It classifies these items based on their kind, manufacturer, and cost bracket for simplified shopping.
It incorporates barcode technology to ensure swift and precise payment and pricing procedures.
It also includes facilities for handling promotional activities during the back-to-school season and for seasonal products.
Plus, it features rewards schemes to incentivize frequent purchases of stationery items.
POS for Home Décor Stores
Handles various home décor products, including wall art, decorative items, and textiles.
Allows for categorization by room or theme for easier customer navigation.
Supports multiple product images to showcase different angles and styles.
Provides real-time stock information for popular home décor items.
Offers options for handling special orders and customized décor items.
Tailored for stores specializing in gift items and gift hampers.
Provides options for bundling complementary gift items for upselling.
Manages inventory for unique and trendy gift items.
Integrates with loyalty programs to encourage repeat gift purchases.
Includes features for tracking stock levels and restocking notifications.
POS for Kitchenware Stores
Designed for stores selling kitchen tools, utensils, and cookware.
Organizes kitchenware items by category, material, and brand.
Supports barcode scanning for quick checkout and pricing accuracy.
Manages inventory for various sizes and colors of kitchenware products.
Provides real-time stock updates for popular kitchenware items.
POS for Mobile Accessories Stores:
Customized for stores specializing in mobile accessories like phone covers and headphones.
Allows for bundling of phone covers and headphones for promotional offers.
Includes features for managing warranties and after-sales services for accessories.
Offers loyalty programs for customers who frequently purchase mobile accessories.
POS for Optical Stores
Manages products related to eyewear, such as prescription spectacles, shades, and contacts.
Enables rapid identification of frames and lenses through barcode scanning.
Manages prescription details and offers options for lens customization.
Provides options for tracking order history.
Includes features for managing eyewear fittings and adjustments.
Offers loyalty programs and discounts for repeat optical purchases.
POS for Plastic, Household Products Store
Customized for stores selling plastic and household items
Billing by category, and size of plastic items
Manages inventory for various household products like storage cabinets, cleaning tools, etc.
Offers options for handling bulk purchases and wholesale pricing.
Integrates with loyalty programs for regular household product buyers.
Conclusion
With the retail industry becoming increasingly competitive, you need POS software that puts you ahead of the game and matches your business type. Implementing industry-specific POS technology in your store not only enhances operational efficiency but also provides insightful data related to your business vertical. So, are you ready to embrace this trailblazing technology that's set to be the game-changer in retail?
Step into the future of retail with cutting-edge POS (Point of Sale) software from VasyERP. Embrace the digital revolution and take your retail store to new heights with powerful POS software from VasyERP that is tailored to your specific needs.
Related Post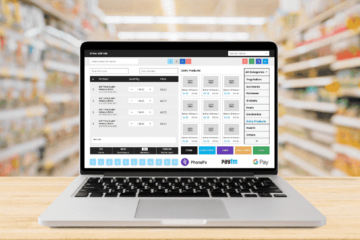 POS Software for Supermarket and Grocery Stores Are ...
Modern retailers have transitioned from simple cash reg...