If managing billing, inventory, payment gateways, or accounting for your garment store is your current concern, then this article is for you! This article explores the best POS software for garment shop
Garment stores can be very busy places. You have to manage a beeline of customers and keep everything organized too. From managing apparel inventory to creating invoices/bills and keeping multiple payment options open for your customers, there is a lot that you need to sort to keep your garment store running smoothly.
What if you can get all these sorted by deploying a single solution? An integrated POS software for garment shops is the solution that your apparel store needs. However, with plenty of choices in the garment shop/fashion store POS market, you might get confused while choosing the perfect POS software for your store. This article will help you select the most suitable point-of-sale software for your apparel store.
Let's identify the best apparel Point of Sale System for your business
Top 5 Point of Sale Software for Garment Shops
VasyERP POS for Garment Store
GoFrugal Garment Shop POS
Square POS for Clothing Store
LightSpeed POS
IVEPOS
#1 VasyERP POS Software for Garment Shops
VasyERP is a comprehensive cloud-based ERP system created specifically for garment stores. It assists in managing a variety of tasks utilizing features for POS, Inventory, Smart Retail, Self-Checkout, and more. With the help of this platform, garment stores can handle their daily activities without stress.
Any apparel store, garment shop, or fashion retail store can achieve rapid business growth with VasyERP. VasyERP also simplifies the management of garment store warehouses and inventories. It offers a cloud-based point-of-sale system that comes with the highest security standards and multiple payment gateways.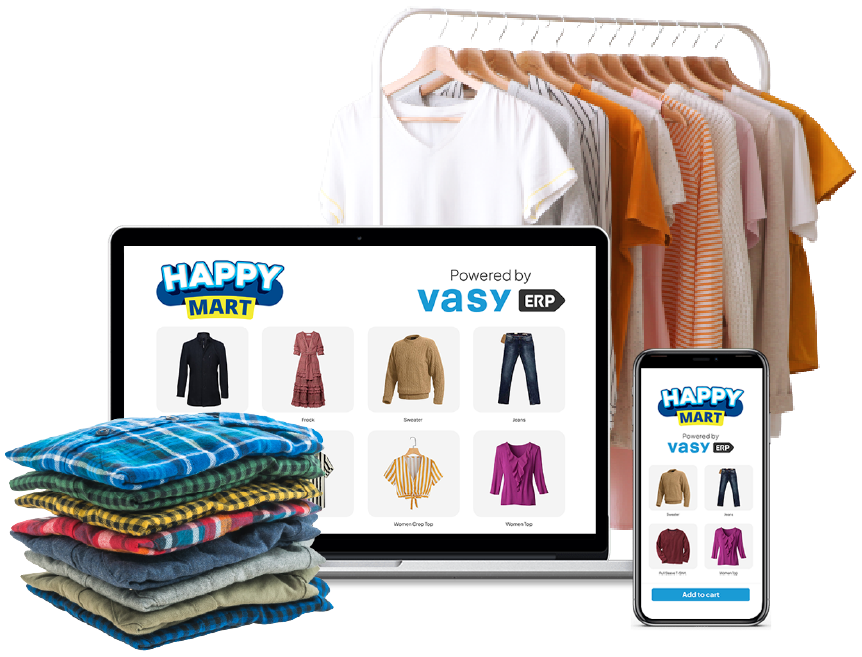 Source: VasyERP Garment Store POS
Key Features of VasyERP as your POS Software for Apparel stores.
Sales and Purchase
POS
GST Compliance Invoice & Expenses
Multi-store management
Manages online sales & orders by seamlessly integrating with e-commerce systems
Supports many payment methods, including cards, cash, UPI, etc.
Cash Tender
Sales and Purchase management
Product tracking and stock inventory
Track returns and refunds with ease.
Multiple Billing Counter
Bar-code & QR Code Generator
Instantly import inventory and product details in bulk.
Assists in quickly generating invoices with printed barcodes.
SMS Alert & Bulk SMS
Communicate with your consumers anytime with inbuilt Whatsapp Integration
150+ MIS Reports
#2 GoFrugal Garment Shop POS
GoFrugal POS is a highly efficient clothing store management software designed specifically for garment retailers. It offers a holistic approach to managing garment stores by integrating POS, inventory management, accounting, and business management into a single platform. This software helps clothing shops streamline their operations and optimize their sales with features such as mobile billing, flexible barcoding, and advanced CRM tools.
Source: GoFrugal Garment Shop POS
Key Features:
Simplifies warehouse and inventory management
Offers robust security measures
Multiple payment gateways
Barcode generation
E-commerce Integrations
Loyalty and Memberships
#3 Square – POS Software for Fashion Store
Small businesses, including restaurants and retail outlets, use Square's point-of-sale (POS) hardware and software. When you're making waves in the fashion industry, Square for Retail streamlines your stock management, payment transactions, and more across all of your retail outlets. With Square POS for fashion stores, synchronize your stock levels, incorporate your preferred applications, and begin sales immediately.
Source: Square POS for Fashion Store
Key Features of Square POS for Clothing Stores:
Scanning bar codes
Options for invoices and digital gift cards
View sales reports for products that are low on stock or unavailable.
Reporting on time cards
Integrate third-party accounting
Accept returns and exchanges
#4. Lightspeed Clothing Store POS
Garment shop owners can get the hardware and software they need to complete transactions with Lightspeed Retail, a cloud-based point-of-sale system for apparel stores. Lightspeed allows adding product variations and managing inventory utilizing connected vendor catalogs. It keeps track of items across many locations due to excellent inventory management options.
Source: Lightspeed Clothing POS
Key Features of Lightspeed Clothing Store POS
Check Inventory easily
Custom fields for product attributes
Online store
Flexible reporting
Payment integration
Management of customers
Selling across channels
Onboarding and assistance
#5 IVEPOS For Readymade Stores
IVEPOS is a versatile POS software solution specifically designed for the unique needs of garment stores. With IVEPOS, managing garment store warehouses and inventories becomes a seamless task. The system also incorporates multiple payment gateways, ensuring secure transactions for your business. IVEPOS empowers clothing retailers to handle their daily operations efficiently.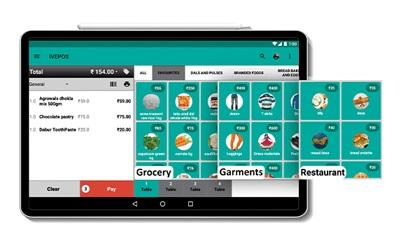 Source: IVEPOS Garment Store
Key Features
Real-time inventory management
Customer loyalty programs
Customer credit management
Reports and analytics
Point-of-sale
Book-keeping
Conclusion
With their exceptional attributes and price advantages the above 5 best Garment Store POS will surely meet the demands of your store. However, every business has specific needs that must be taken into consideration. You must carefully assess which POS provider will best suit the requirements of your business considering the wide variety of options offered in the market. Your company's type and size, your budget, your hardware requirements, and other features like mobility, self-serve checkout, or GST compliance must all be taken into consideration when selecting the best POS for Garment shops.
With years of experience and a sizable customer base that appears to be extremely satisfied with their product, VasyERP stands out as the best POS Software for apparel stores.
Why don't you schedule a demo and get to know how to use the best Garment Software?
FAQs
What is POS software for Garment Shops?
By automating your business operations, garment software also known as garment store POS, apparel POS software or fashion store POS assists garment stores like yours in streamlining operations from product acquisition to sales billing. This software often includes barcode generation capabilities to help track individual items. It provides a comprehensive solution for managing all aspects of a garment store.
What Sets Apart POS Software for Garment Stores from Generic POS Software?
Apparel POS systems, as compared to generic POS software, have distinct features created with Garment businesses' needs in mind. This makes the software highly personalized for garment shop retailers.
How will POS software for Garment Stores help me beat the competition?
There are so many possibilities for financial success in the apparel industry. According to Statista Market Insights, the global apparel market is expected to generate US$343.70 billion in revenue in 2023. As a result, many more retailers want to enter this market. This makes it a highly competitive field. However, technology like POS software can help you beat the competition and keep your store more organized than your peers.
A Garment store POS enables effective inventory and sales management to help you raise your profit margin, An effective POS system has a big impact on the performance of a garment shop
Which is the best POS System for Garment stores?
VasyERP garment store software is one the best apparel store POS software solutions that garment shop owners can deploy. Garment store software such as VasyERP has all the inbuilt tools and features to fully utilize the capabilities of POS and ERP. Apart from VasyERP, other top garment shop software includes GoFrugal, Lightspeed, Square, and IVEPOS.
What are the benefits of using a Garment shop ERP suite for my apparel business?
A Garment shop ERP suite like the one offered by VasyERP provides numerous benefits for your apparel business. It streamlines complex processes, enhances inventory management, speeds up garment shop operations and integrates all aspects of your business ranging from sales and POS to accounting and CRM. Garment POS brings speed, customer satisfaction and error-free billing and inventory management to your store.
With the aid of point-of-sale software for apparel stores, you can meet your customer's needs and note the details of their entire transaction. This enables you to order the appropriate products and restock the necessary inventory.
Manage multiple product categories and variants like colour, size, and brand, apparel management software
Lowers queues: Handle unique barcodes for each of these, allowing you to complete checkout processes more quickly and efficiently.
the ability to invoice from any location with swift transactions
helps boost sales by identifying poorly selling items within your inventory
built-in accounting capabilities,
providing customers with diverse payment options for greater flexibility
Related Post
It's not surprising that retailers feel overwhelmed by ...
When it comes to features, POS software solutions can b...