Trusted By


Automated


Billing
No more manual bills. VasyERP empower your grocery store with automated invoicing, easy billing and integrated payment gateways
Sales Invoices
Weigh sale integration
Cash Tender
Easy


Inventory Management
Receive Real-time inventory updates, know which stocks need reordering, and handle multiple product variants easily in your grocery store.
Stock Control and Verification
Barcode and Label Generator
Low Stock Alerts
Error-Free


Accounting
Now don't worry about balance sheets, ledgers, and expense management with our inbuilt financial accounting module with GST compatibility.
Balance Sheet
GST-returns
Expense Management
Run Your
Grocery Store Business Like a Pro


With VasyERP's Top Features
Specifically designed features to run your grocery shop without hassle
GST-Compliant Billing
Worry-free GST compliance with our sophisticated billing and invoicing system for grocery stores.
Stock Management
Ensure accurate inventory levels with the powerful features of VasyERP's stock management system.
Brand-wise Stock Management
Have the same category stocks from multiple brands? No worries. Enjoy brand-wise stock management.
Stock Fast and Least Selling
Know which stocks are popular and which don't sell. Set automated orders for goods that sell more.
Offers and Discount Management
Handle promotional deals from partner companies as well as exclusive offers for dedicated customers.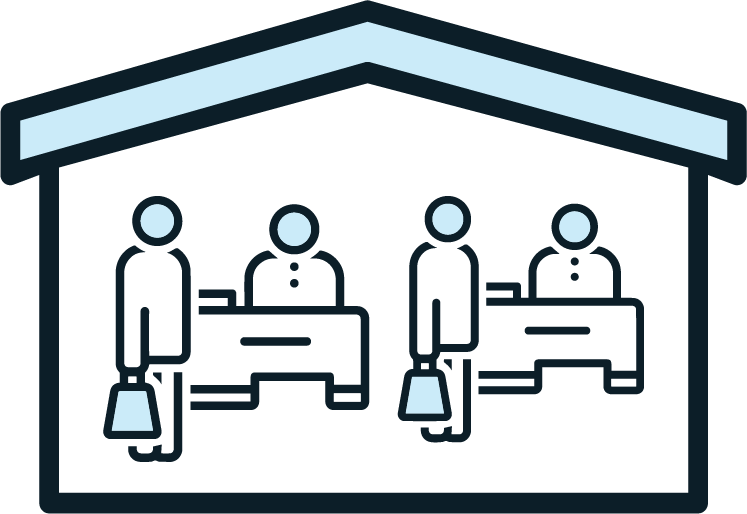 Multiple Billing Counter
VasyERP's invoicing solution for grocery outlets operates on numerous counters to reduce wait lines. 
WhatsApp Integration
Maintain communication with customers, dispatch bills, and send offer notifications via WhatsApp.
UPI Integration
VasyERP Grocery Store billing software has a simple integration with UPI to let you take payments via QR codes. 
Share Invoices on Mobile
Share the invoices on the mobile number provided by the customer with a single click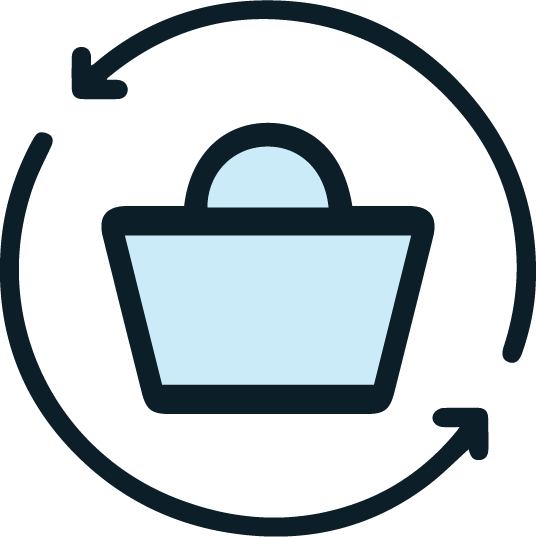 Return and Exchanges
Manage your returns and exchange with real-time updates in inventory for returned or exchanged goods
Stock Verification
Keep your stock intact and checked with inbuilt stock verification features from our supermarket billing software.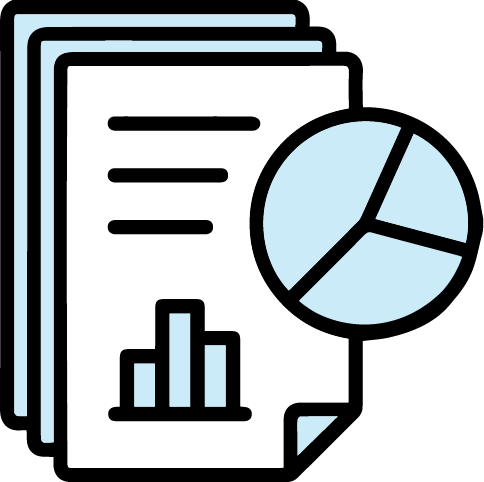 Reporting and Analytics
Get up to 150 types of detailed reports and analytics and visualize them on our interactive dashboard.
GST-Compliant Billing
Stock Management
Brand-wise Stock Management
Stock Fast and Least Selling
Offers and Discount Management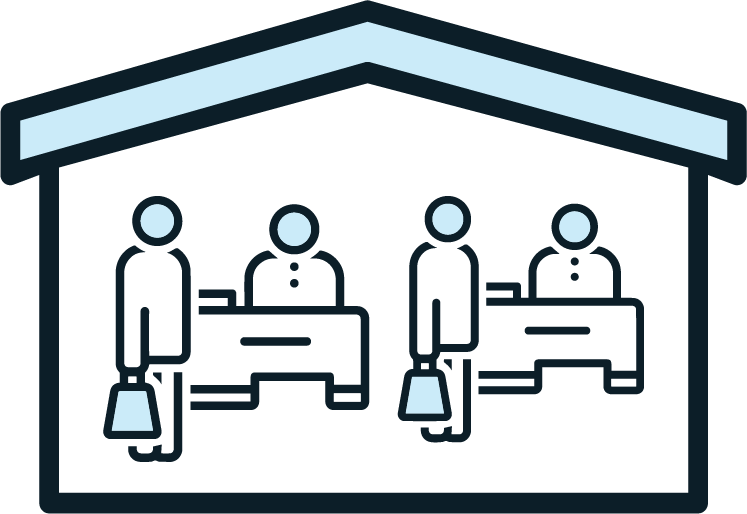 Multiple Billing Counter
WhatsApp Integration
UPI Integration
Share Invoices on Mobile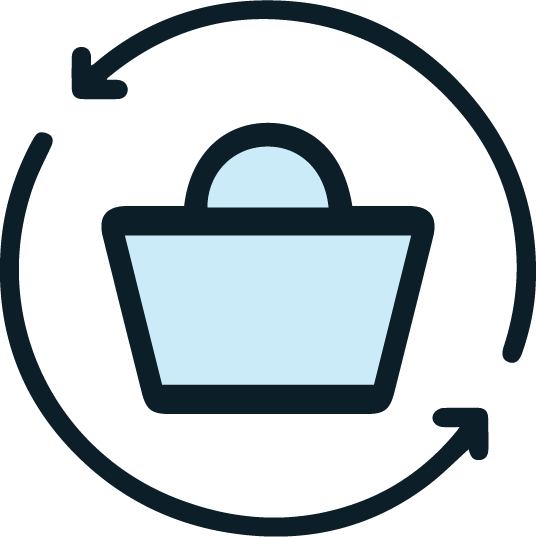 Return and Exchanges
Stock Verification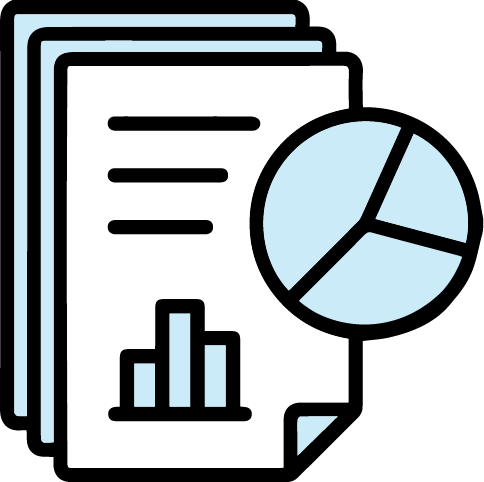 Reporting and Analytics
Experience Now
Handle Multiple Grocery Store
Branches and Franchises
Look After Your Multiple Grocery Store Outlets, Inventory, and Customers from a Single Location Using Our Platform.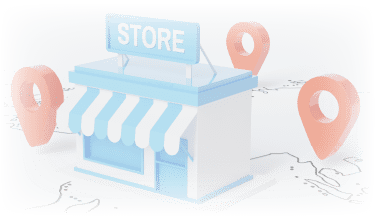 Centralized Management
Manage various grocery store branches and franchises from one centralized platform.
Centralized Inventory Control
Get instant access to data on stock levels, sales figures, and performance metrics across all branches.
Single Customer Database
Keep a single customer database that includes all your Grocery Store franchises, locations, and branches.
Stock Transfer & Request
Facilitate seamless and real-time inventory transfer between different store locations.
Central Reporting & Analytics
Gather and analyze data from all outlets through a single dashboard featuring consolidated reports.
All Your Requirements Under
One Roof
Our Grocery Store Platform Delivers All the Essentials Required to Manage Your Daily Grocery Operations in One Place.
Powerful POS Solution
Manage Multiple Stores Anywhere, anytime!
Manage your inventory and barcode
Manage multiple payment modes
Reports That Improve Forecasting and Analytics
Launch Online store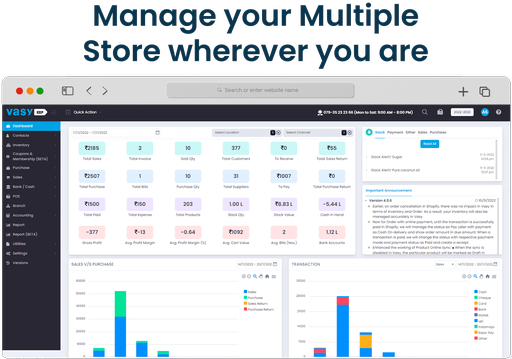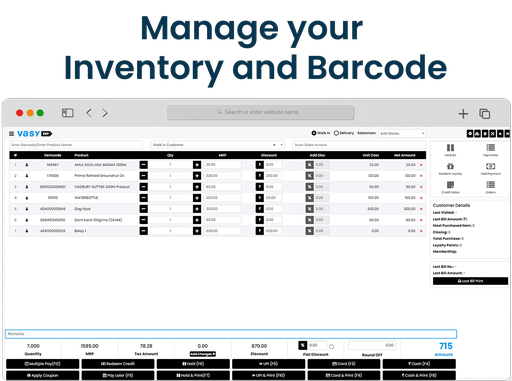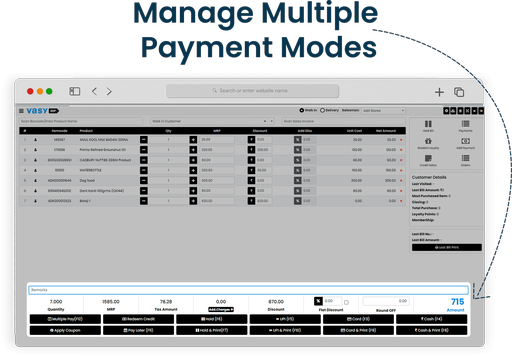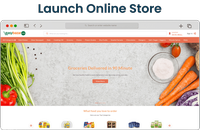 Billing Hours


Saved/month
Why
VasyERP

?
Grocery Billing Software with All Features and Integrations for the Grocery Stores.
Cloud-Based Grocery Software
Access the software and your store's data from anywhere.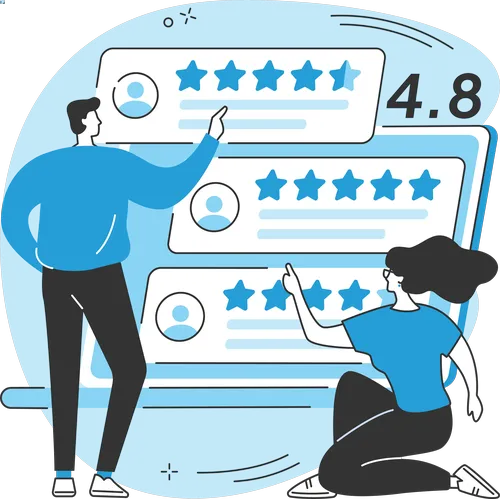 Rated 4.5* on Google Reviews
Have achieved an incredible and best-in-class 4.5-star rating on Google Reviews for our company.
No Data Loss
With high-end security features your data is safe with us. Our servers are completely secure.
Quick Support Team
Our support team is ready to offer you quick assistance and solve problems whenever needed.
Mobile App
Comes with a mobile app for managing your store easily from anywhere
Runs on any Device
Log in from any location with a Tablet, Mobile, desktop or Laptop.
Implementation Experts
Our dedicated implementation team will guide you for implementation and feature usage.
Speed
Designed for exceptional speed, accuracy and higher productivity levels.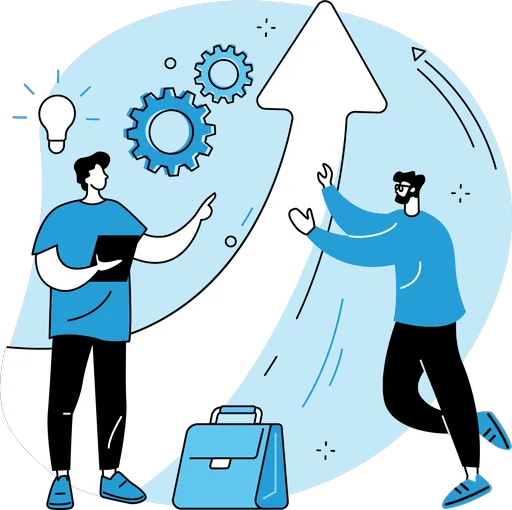 Experience 
Leading the field of grocery retail solutions backed by years of practical experience.
User-Friendly
The invoicing system for our Grocery Store is user-friendly and instinctive.
Affordable
VasyERP offers competitive prices and packages without sacrificing any features.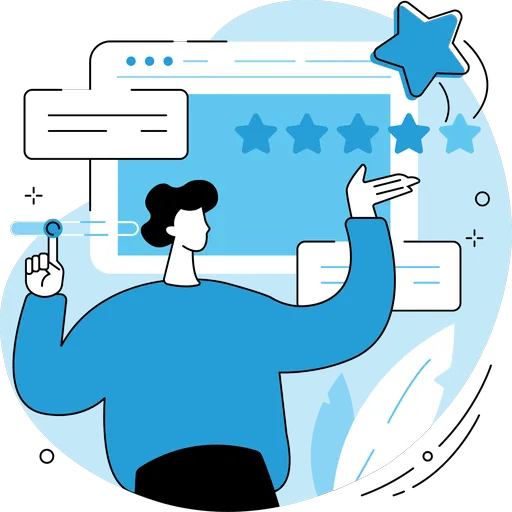 Client Satisfaction
12K+ satisfied clients that love our software services for grocery stores
Seamless
Integrations

With Multiple Platforms
Our Grocery Store Management Software Integrates with a Range of Platforms, and Applications and Possesses Multi-Device Operability
12,000+

Merchants Who
Choose Us
India's Most Trusted ERP
 for the Retail Industry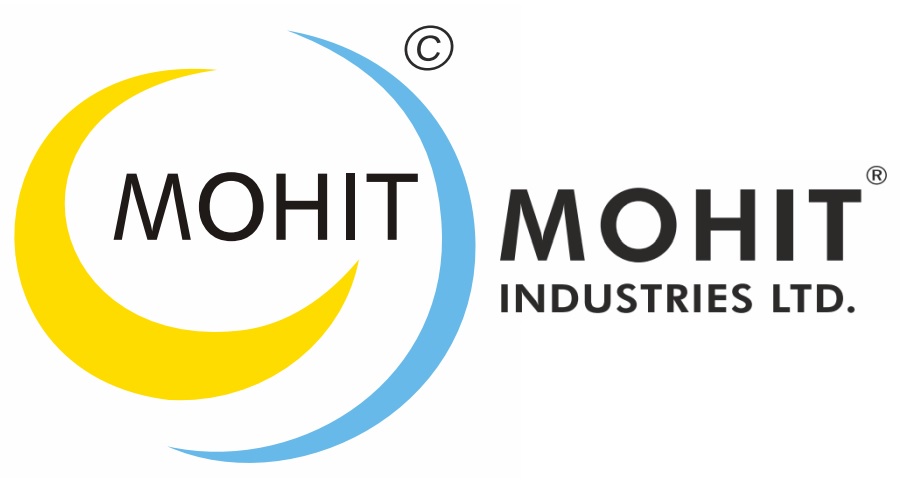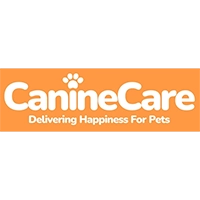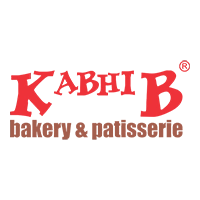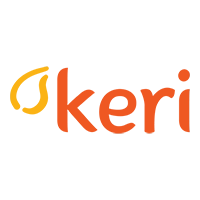 VasyERP:
Innovative Solutions


for Modern Grocery Stores
Designed specifically for grocery stores, our flawless Billing software for Grocery Stores is easy to implement and use
We understand the diverse challenges faced by grocery store owners- billing, stock management and payments are top operations that grocers want solutions for running their stores without worrying. Also, grocery store owners need automated systems to manage peak times and avoid delays. Bring VasyERP to your store, and see the difference yourself.
An outstanding billing and invoicing solution customized precisely for your Grocery Store!
See improvements in productivity, customer satisfaction and overall business!
Don't hesitate to reach out to our implementation team with any questions or queries you may have.
Avail of the free Demo now!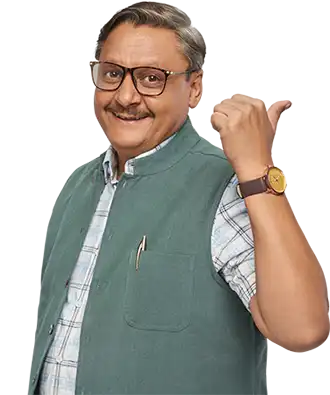 Vasyerp working for you to build your business super efficient
Get Product Demo So You're Confident It's the Right Fit. Stay Focused on What You're Good at and Let Us Improve Your Store Experience and Efficiency.
12000+ Customers
4.5+ Google Review
FAQ!

Need Help?
We've got you covered
Grocery Software is a fast, reliable, and comprehensive solution designed to automate and streamline grocery store operations. The software helps grocery shop owners to manage all key store operations with features that include:
Sales, Purchase, POS, Inventory management, E-commerce, Accounting, CRM, GST taxation, Barcoding, Loyalty programs,
and more. From single outlets to multiple chain stores, the technologically advanced grocery store solution facilitates better control over store activities, improved customer service, efficient inventory control, and insightful analytics. It also helps with intricate operations including tracking product expiries, managing home deliveries, etc.
Deploying Grocery Store Software offers a range of benefits:
Efficient Sales
Expedited Checkouts
Multiple Payment Options
Easy Stock Management
Improved Customer Assistance
Real-time Sales Data
Refined Loyalty Schemes
Better Discount Management
Understand What You Need to Run Your Grocery Store Better: First, think about what your store really needs. Consider things like what you sell, how you keep track of your stuff, and anything special about your business.
Make a List of Key Features You Need: Seek grocery store software that delivers key functionalities like stock management, a point-of-sale (POS) system, Accounting, CRM, Billing and invoicing, and reporting. Additional features could be – loyalty schemes, an online store, etc.
Effortless Navigation: The software must have an intuitive interface that is straightforward to navigate. It should be easy to grasp without requiring rigorous training sessions.
Cloud-hosted vs. In-house Hosted: Cloud-based applications provide adaptability and accessibility from virtually anywhere with internet availability.
Security: Buy billing software for grocery stores that has security measures for payments, customer data, financials, and other sensitive inventory information.
Customer Support: Choose a software vendor who provides superior customer service. During the initial setup and regular operation, you may face difficulties or need clarifications; having prompt assistance can make a world of difference.
Feedback and Reviews: Conduct research on user feedback, Google reviews, etc. to gauge the satisfaction level of other grocery store owners using that particular software. Look out for comments about ease of use, client support, and overall efficiency.
Free Demo: Opt for a free demo before making your final decision regarding the purchase. This lets you try the software and see if it's good for your store.
Key Features of VasyERP Grocery Store Software are:
Item Variants
Multiple Variants
Weigh Sale Integration
Sales Invoices
Sales Returns/Credit Notes
Refund & Exchanges
Expiry Management
Stock Ageing
Barcode Generation
Labeling
Card Swipe Integration
UPI Integration
Multiple Payment Modes
Cash Tender
Cashier Register Tracking
Centralize Inventory
E-Way Bill Integration
E-Invoice Integration
Customer Purchase Behaviour & History
Advance Payment & Settlement
VasyERP's Grocery software offers an easy-to-navigate user interface. Although the software is super-easy to use and highly intuitive, demo and training ensure that you and your staff can fully utilize its capabilities and benefits. Training and assistance will be provided to your team as required.
Yes, we are providing customization where needed as per feasibility checks.
All packages include free software upgrades and the latest functionalities, security improvements, and enhancements are added at no additional costs whenever these are released by us.
Regardless of the scale and size of your store, our innovative solutions proficiently serve all types of grocery stores. We have
diverse cost plans
that accommodate stores ranging from standalone grocery outlets to multichannel grocery operations and even extensive chains of grocery businesses.
VasyERP is dedicated to delivering superior customer service and technical assistance for its Grocery Store software. We offer implementation guidance to guarantee a seamless transition, ensuring that you can enjoy the full efficiency of our software.